The second part of the Keeping Up with the Kardashians episode devoted to Bruce Jenner's transition aired Monday night, as Bruce worked to explain to his family what would happen next.

The episode began where it left off, with a conversation between Kim, Kourtney, ,Kendall, Khloe and Kylie. (During it, various members of the family shared supportive messages about Bruce on social media.) Bruce told his children that "you will see me and you will know" when he is ready to live his life fully as a woman, clarifying that he didn't have any gender reassignment surgery scheduled. He was also asked a supremely awkwardly phrased question by Kim:
If your life was living a lie as Bruce, and you would have sex with my mom, were you like, into it? Or were you like grossed out?
As he's clarified before, Bruce said that he considered himself straight and that yes, he's always been attracted to women. "I'm not doing this for that reason."
Over at the Disick household, Scott made it clear he's always been stunningly unaware of these issues, perhaps because he's with Kourtney, who is not exactly an emotional sharer. (Of Bruce's decision to get his Adam's apple shaved down, Scott said, "I just thought he wanted a slimmer neck!") Kourtney referenced going to a therapist, who cautioned her that though she wants to be careful with explaining the transition to her five-year-old son Mason, he's aware of more than she realizes.
G/O Media may get a commission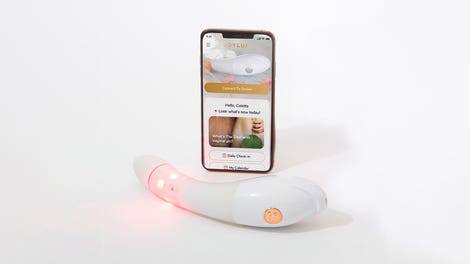 $50 Off
Joylux vFit Gold Device
Bruce's conversation with his ex-wife Kris was arguably the toughest to watch, and he said it was the hardest to have, to which she responded, "Maybe that's because you lied to me the longest." Though the "momager" isn't the most sympathetic member of the Kardashian/Jenner family, she cried during her entire conversation with Bruce over feelings that she'd been misled. According to Kris, they've had times during their marriage when he had anger and communication issues, and she'd asked him why, but he wasn't honest with her. "You think you're going to grow old with somebody and then they drastically change over the course of a couple years," she said.
I never saw this in a gazillion years. Your truth isn't always the truth. You have a story to tell, but you tell it to people who don't know what the truth is.
"You said I just wouldn't understand and you wouldn't talk about it," Kris said, alleging that because of Bruce's anger and their issues, "I turned into the wicked witch of the west."
I always knew that you struggled with wanting to dress differently, and dress as a female, and that was something you did whenever you got that urge. That's the only thing I experienced with you Bruce.
She cried over her feeling that she was losing the memories of their life together, which Bruce said, "still live inside of me."
Perhaps the most touching moment was towards the end of the episode, when Kim came over to Bruce's house and went through his female clothes with him. ("Can you imagine the pressure of having to get dressed for all these girls?" Bruce had joked to Scott earlier.) Bruce told Kim that he planned to "take my ponytail down" and "move forward in life" after the Diane Sawyer interview aired. At another point during the episode, he said that he "would love" to speak out about trans issues.
The transgender issue right now is kind of where the gay issue was 30, 40 years ago. And a lot of people don't understand it. What we need is tolerance towards that community. Because of the situation I'm in, I think we can do a lot of good.
Next week's episode is being billed as one in which the family "regroups emotionally" from learning about Bruce, though this week, Bruce said he thought everyone's nerves about meeting "her" were probably unwarranted.
"For the last 50 years, I've always lived my life for everybody else, playing the role they want me to play," he said. But he seems understandably excited about his future self: "She is always more fun, more at ease, and feeling good about herself."
---
Contact the author at dries@jezebel.com.