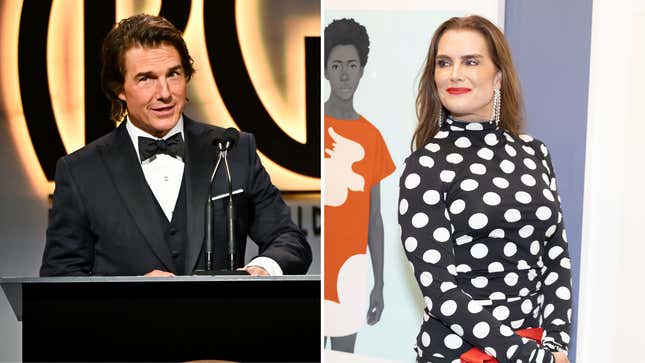 I don't know who coordinates the distribution of Tom Cruise's patented Christmas cakes to all of his friends in Hollywood, but considering Brooke Shield's latest interview with People, I can't help but imagine their thought process last December went a little something like this: One for you, Miles Teller! And one for you, James Corden! Fuck it, two for you, Stuart Heritage! Good for you, Stuart Heritage. And none for Brooke Shields, bye!
Is Emmy Rossum Old Enough To Play Tom Holland's Mom?
While promoting her two-part Hulu docuseries, Pretty Baby:Brooke Shields, the actress divulged that Cruise has inexplicably stopped sending her a $126 white chocolate coconut bundt cake made by Doan's Bakery—a treat he's long been known to gift an elite few at the holidays.
"I was on the list for a while," Shields said. "I had a good 10-year run, and I got the coconut cake every year, which I was very happy [about]." Apparently, the cake had once been a gift not just from Cruise, but also from his ex-wife, Katie Holmes, and their daughter, Suri (to whom he reportedly no longer speaks).
"It was from them and Suri, so it was the three of them, and then soon it was no Suri and no Katie and just Tom," she recalled. "Then it went from just Tom for a while, but not every holiday. And then the cake stopped." Huh.
You might surmise that Cruise simply stopped the tradition because his schedule suddenly became a little busier saving cinema with bloated, albeit enjoyable, action movies, or maybe that he'd finally spent too much on Scientology dues and had no choice but to cut back on costs a little. You'd be wrong, however, because innumerable celebrities and journalists can't stop talking about receiving them. Frankly, I don't blame them—it looks great.
"I was on the list pre-Maverick, so I'm very happy," Cruise's Top Gun: Maverick co-star, Jon Hamm, said in an interview last year. "The coconut cake is very good. I have one in my fridge right now," their fellow castmate, Miles Teller, echoed. Rosie O'Donnell, too, took to Instagram to boast about her bundt last December. Tom Hanks, Kirsten Dunst, Angela Bassett, and the like have also gleefully discussed Cruise's gift.
Clearly, this is a Shields-specific thing, which is...odd considering the two have long made peace after he publicly chastised her for taking anti-depressants after experiencing postpartum depression following the birth of her first daughter: "When someone says (medication) has helped them, it is to cope, it didn't cure anything. There is no science. There is nothing that can cure them whatsoever," Cruise told Access Hollywood in 2005.
"I care about Brooke Shields because I think she is an incredibly talented woman, (but) look at where has her career gone," he added. In case you don't remember, Shields responded with a searing essay in the New York Times, and it appeared the pair had moved on. She even scored an invitation to his 2005 wedding to Katie Holmes. Apparently, though, their truce didn't quite stick (or someone's getting fired).
"I want to get back on that cake list. It's the best cake," Shields joked to People. "Tom, I need to be back on the cake list."

You heard her! Give her back the bundt!