Lindsay Lohan has moved back into her teenage bedroom on Long Island with mom/"cool mom"/party friend Dina because Thomas Wolfe was wrong: you CAN go home again. Supposedly she's returned home to help pay the mortgage on the Lohan family abode (although she herself is strapped for cash, so I don't really see how that'll work unless she gets some more quick money from dates with princes). A source says she's been crashing there for at least three months now, unable to keep up with her own $8,000-a-month Beverly Hills rent.
Says a source, "Dina has been trying to get her to move home for years so she can keep a close eye on her. She didn't want her in L.A. anymore. Not only is she in New York now, she's in the next room." Also: "Dina's working on a book at home. A Parent Trapped is the working title. She says it's about surviving domestic abuse. She's shopping it around now."
To be fair, when LiLo was asked what's been keeping her sane through all the hullabaloo, her surprising and rather sad response was: "Family. Family is everything." :-| [NYDN, E!]
---
G/O Media may get a commission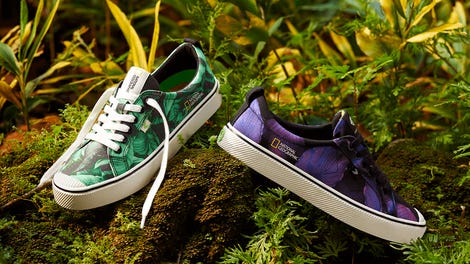 New New New
Cariuma + National Geographic
I must say, there is a soft spot in the cockles of my heart for Demi Lovato, who sought help back in 2010 for depression, bulimia and self-harm and seems much better these days, although she admitted that she wasn't quite ready to join the judging panel on The X-Factor when she did.
She told UK's Cosmo On Campus that a better handle on romantic relationships have flourished alongside her health. "I'm in a place where I can finally trust and love and be a better person for the man I am in a relationship with, instead of being a clingy girlfriend or getting jealous. It is very unhealthy when girls devote all of their time to a guy and forget their friends and family. I did that. I was always looking for distractions because I was so afraid of being alone." [Us Weekly]
---
It's not really surprising that, in certain ways, Taylor Swift is kind of a Rules girl. She's currently doling out tough love to her buddy Selena Gomez in order to help her get over the Justin Bieber breakup, encouraging Gomez to go cold turkey on El Beebo, a source says:
"Taylor is very spiritual and superstitious and believes in the saying, 'It takes half the time of a relationship you had with someone to get over the relationship you had with that person.' If Taylor can speed things up a little bit by being there for Selena and showing her the fun she can have, then she will gladly do it."
Oh, and if you saw anything out there about a Taylor Swift/Harry Styles sex-drenched iPhone hack leak, it's spam. But that's cool, soon we'll learn everything about them from the next T-Swizzle album. [Today, Showbiz Spy]
---
Ellie Kemper, best known as The Office's Erin and Bridesmaids' virtuous newlywed Becca ("He'll only have sex with me in the dark, after we've showered, separately, and by the time we're done cleaning ourselves he says he's too tired, and I say I am too, but I'm not tired, I'm not tired") is getting her own NBC pilot called Brenda Forever. "stories from Brenda Miller's past and present are interwoven to give a unique portrait of how a chubby, awkward, but incredibly confident 13-year-old grew up to be a 31-year-old woman who still marches to the beat of her own drum." Yay! [Vulture]
---
Next year Simon Cowell will host a show called Food, Glorious Food on Fox, adapted from the UK version. I don't know how I feel about his deep-V-neck-clad-chest so close to my fucking fondue but whatevs. [Radar Online]
---