The man pictured above at some sort of pop-up McDonald's booth is Brody Jenner. For a moment in the early 2000s that lasted about as long as it takes to clear one's throat, he was Caitlyn Jenner's Most Famous Child. His younger half-sister Kylie currently holds that title, and gave birth to a baby named Stormi on February 1. Per Uncle Brody himself, that was the very day he found out Kylie had been pregnant.
In an interview (or whatever you call a shaky-cam walk and talk at LAX) with TMZ, Jenner revealed he has yet to meet his niece or send a gift, but that he "hopefully" will soon. When pressed, he went on:
To be honest, I didn't even know she was pregnant for the entire pregnancy. So, uh, but yeah. Now I found out. For sure, I would love to see her...I haven't really seen her that much, lately. She's been incredibly busy...
When asked why he hasn't seen Kylie in "a couple years," he said, "I have no idea" with what sounded like a hint of resentment.
Tell me everything, Brody. Let's do lunch.

[TMZ]
---
Richard Pryor's daughter Rain has had it up to here with the fuss over Quincy Jones's claim that Marlon Brando and her father had a sexual relationship, and took to Facebook to share her disgust with the media and her father's "so called widow" Jennifer for confirming Jones's statements.

G/O Media may get a commission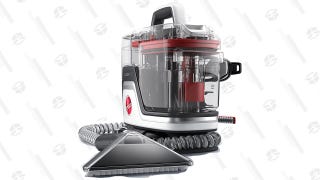 Save $10
Hoover CleanSlate Plus Carpet & Upholstery Cleaner
In a post that is both hilarious and sort of biphobic (how dare you say the claim that having sex with both men and women "tarnishes" an image!!!), Pryor wrote:
All you who touted Faux News and preach about wanting blacks to be represented in a great light and then posted Q's interview are irrelevant and full of your own BS. Q, was once a brilliant music producer who is losing his mind, and decided to garner publicity for himself with a sensationalized interview; and because y'all think and equate Fame and Money with decency, you ate it up like thirsty dogs, as he spewed out a lie about my father who's not here to defend himself.

Then on top of it all, my dad's so called widow validated it, because she needs to keep legitimizing herself and tarnish our dad even after he's dead. She hated Q and Daddy.
She ended with this perfect line:
I'm getting my millions the correct way, with integrity!!!!
[People]
---
A question:
An answer: [Gossip Cop]
---