Britney Spears has released the original images from her most recent Candie's photo shoot along with the Photoshopped final ads. According to the Daily Mail Brit wants "to highlight the pressure exerted on women to look perfect."
Granted, The Daily Mail doesn't actually quote any official statement from Britney on why she's released the photos, just an unnamed source who says, "Britney is proud of her body — imperfections and all." The photos are credited to Candie's and the photo agency Splash. No matter who specifically put them out there, we're still looking.
As helpfully pointed out by the gigantic arrows, in the final images Britney's calves and thighs have been made slimmer, some barely-visible cellulite has been removed from the back of her thighs, and tattoos and bruises have been airbrushed.
The Daily Mail calls Britney "brave" for releasing the pics — and she definitely deserves some applause (if this was her doing). But it's worth noting that Britney is still benefiting from some serious vanity lighting in the un-retouched photos, and lighting goes a long way with this stuff (see: Jessica Simpson). And we definitely see more of Britney than in Jessica's semi-obscured, makeup-free photos in Marie Claire; it's great to see stars acknowledging that their perfect image is a fabrication. However, we'll save the "brave" label for the celebrity who demands that only the non-Photoshopped images be released.
G/O Media may get a commission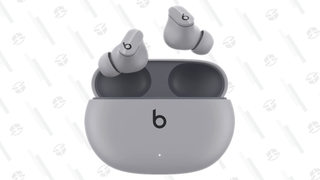 Britney Spears Bravely Agrees To Release Un-airbrushed Images Of Herself Next To The Digitally-Altered Versions [Daily Mail via ONTD]
Earlier: Gorgeous Gimmick: Jessica Simpson Without Retouching Or Makeup