In its infancy four years ago, Britney Spears's Instagram was a boring place filled with overly filtered photos of her posing with The Wanted (remember The Wanted?), filming The X Factor, and performing during her Femme Fatale tour. Like many celebrity Instagrams, it was a place for shameless and impersonal promotion. Here's her cover of Elle—on newsstands now! Here are the dates for her next shows—on sale next week! Here's her list of upcoming TV appearances—she's doing Kimmel!
But over the past seven months, Instagram.com/BritneySpears has changed. What was once a place to find photos reaffirming things we've all known for over 15 years has become a window into a part of Britney we've never seen before. The relatively slow transition began roughly 28 weeks ago, when she posted this selfie:
This image (which looks to have been taken with a front-facing camera) is what I believe to be the first actual selfie Britney ever posted to Instagram, and suggests an ownership of the account that wasn't there before. "This is really me," she seems to be saying in the green-tinted darkness of her bedroom. The power to upload is now literally in her hands, and she would like you all to see her new haircut.
Soon after the selfie, Britney began posting more and more screenshotted images of silly and/or inspirational quotes she had found elsewhere. "Don't let idiots ruin your day," read one of them. "All you need is love...And a tiara. And maybe a cookie," read another. Then, four months ago, came this one-two punch:
G/O Media may get a commission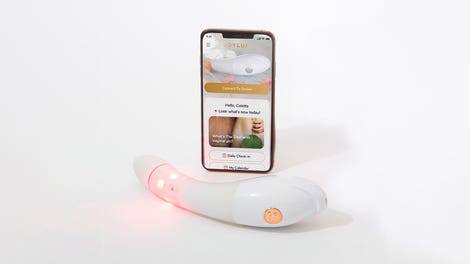 $50 Off
Joylux vFit Gold Device
It doesn't necessarily surprise me that Britney Spears loves unfunny memes that feature Minions, but it does surprise me that she uploaded them to Instagram right after a photo of her doing yoga, and just before a photo of a donut she happened to be craving at the time. The days when refreshing her feed meant seeing a new professionally photographed image from an ad campaign were over. Britney Spears had finally begun letting us in.
And once she started, she didn't stop. The inspirational quotes kept coming. Photos of her children—the true loves of her life—increased in quantity, she posted another selfie, and eventually she took us even further behind the curtain—revealing a philosophical side to herself with posts like:
And:
Her Instagram was becoming an unfiltered feed of her thoughts, seemingly bound to no social media manager's posting schedule. The occasional sponsored post suddenly felt wildly out of place in a way it wouldn't have just a year earlier.
In caption-free posts like this image of what appears to be the Louisiana brush, she told us where she was. And in other posts, she told us where she wanted to be:
There is a surprising—if perplexing—openness to Britney's Instagram that's refreshing each time it pops up in my feed. And though it doesn't always make sense, I still feel as though I've learned more about her in the past six months than I've learned about some people after years of friendship.
What does she love? The water.
What does she want to learn? Math.
How does she feel? Anxious.
What does she dislike being? Single.
Who does she pray to? Mary.

Who else does she pray to? Never mind, it's still Mary.
Is her father great at basketball? Yes.

What is as good as it gets? Fudge.

Whom does she love enough to post two photos of in a row? Kate Hudson.
The newfound sincerity to Britney's Instagram is lacking in most accounts of non-celebrities, let alone famous ones. She has begun sharing pieces of herself—sometimes several times a day—in a way that feels unforced and almost fearless. What began as a place to promote her has become a place to know her, and that's as beautiful as this photo of Mars:
---
Contact the author at bobby@jezebel.com.
Images via Instagram.