On the same day that British Vogue editor-in-chief Alexandra Shulman is hitting the headlines for her comments to the Daily Mail's Liz Jones about how fashion is no-way no-how absolutely positively cross-your-heart-and-thank-your-best-black-friend not racist, it has come to light that the latest issue of her magazine has a little problem. In a trend piece about "the rise of the Asian model," Vogue has misidentified one of the biggest Chinese models working today, Estée Lauder face Liu Wen, as her compatriot Du Juan.
Ana Gasteyer Satirizes the Girl Boss in 'American Auto'
Liu Wen has been a favorite of top designers — and as a result, she is one of the most-booked show models — for several years now. In addition to her major cosmetics contract, she became the first Asian woman to walk for Victoria's Secret back in 2009. Du Juan has been modeling internationally with great success since 2006. She's been featured on the cover of Chinese Vogue several times and shoots editorials for the magazine frequently. She's been in ad campaigns for everyone from Armani to Esprit, for chrissakes. This is not really the kind of mistake you would expect a fashion magazine to make. But British Vogue's problems go a little deeper than even giving one Asian model the wrong name.
Shulman's magazine has not featured a black woman on a cover since November, 2008, when Jourdan Dunn shared a cover with fellow models Eden Clark and Rosie Huntington-Whiteley (pictured). And in the current issue — despite that aforementioned Asian models trend story — not a single page of any fashion or beauty spread was devoted to an Asian model. (The magazine did publish a Japanese-themed spread titled "Neo Geisha." It starred a white model named Guinevere van Seenus.)
G/O Media may get a commission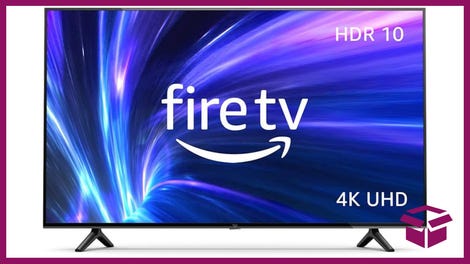 42% Off
Amazon Fire TV 50" 4K Smart TV
Shulman nonetheless told the tabloid that the industry isn't racist "in the slightest. There have always been black players on the scene — at the moment look at the stylist Edward Enninful, make-up artist Pat McGrath and [models] Jourdan Dunn, Liya Kebede and Joan Smalls, who are at the top of the tree."
Carole White, the agent who discovered Naomi Campbell, disagrees. She has problems booking models of color, especially for lucrative bread-and-butter work like catalogs. "At the high end, it is slightly better now. But in the mid-range — the catalogues, the e-commerce websites — it is difficult. They want girls who are ethnic, but light-skinned girls. If a girl is very dark, they say no."
And while New York fashion week is not ethnically diverse by any standard — last season, you may recall, was the whitest in years, with just under 85% of all runway spots going to white models — Paris and Milan's respective fashion weeks are even worse. Says White, "There, they absolutely don't want black girls. A black model has to be a real star before you can take her there. They only take a black girl when the biz is buzzing about her."
As for that Asian models trend piece, it contains a few insights. Indian model Lakshmi Menon says in it that "Skin-color bias is very strong [in India]. Some dark-skinned models are used sporadically for political correctness, but commerce dictates that they never find their way to mainstream advertising. I have never seen a dark-skinned Indian model endorse Indian or international beauty products." This won't come as a surprise to anyone who's ever seen an ad for any of the dozens of skin-lightening creams that target the Indian market, but it's nice to hear someone in a position of prominence call it like it is.
Influential casting agent Michelle Lee, who works with clients including Marc Jacobs and Chloé, says that "While Asian models have made sweeping progress, we still have a long way to go before they are the norm. I don't foresee their representation becoming proportional to Caucasian models in Western fashion."
Indeed, for now they are still far from being "the norm" in the pages of British Vogue. Which can't even get their names right.
Is the fashion industry racist? Yes, and it goes right to the core [Daily Mail]
British Vogue Article On Asian Models Can't Tell Them Apart [Racked]
Earlier:
Exclusive: New York Fashion Week Was The Whitest In Years