In 2011, Natalie Allman survived a brutal attack by her then-boyfriend Jason Hughes. After Allman broke up with the father of her children, Hughes broke into her home beat her with dumbbells, smothered her with a pillow, and slit her throat. The attack lasted for seven hours before Allman was able to alert the authorities.
The Daily Mail reports: [Warning on the link for images of domestic violence]
When officers arrived at the home they found the couple's terrified sons, then two, in bed with their mother and covered in blood.

She was rushed to Hereford Hospital and Hughes was arrested by officers at the scene.

Ms Allman had suffered eight wounds to her head and five fractures to her face bones. She also needed cosmetic surgery to rebuild her throat.
Hughes was jailed for nine years after he was convicted of malicious wounding with intent to cause grievous bodily harm at Worcester Crown Court on August 2, 2012.
Now a court has ordered Allman to send three letters a year to Hughes, updating him on the lives of their now five-year-old sons. She was also ordered to send up-to-date photographs of the twins. The order was made under Britain's parental rights law and if Allman doesn't comply, "she will be in contempt of court - and could be imprisoned."
In turn, Hughes has been granted permission to send the boys letters, which are mailed to Allman's father's house so that Hughes won't know where she lives. She has also been ordered to save Hughes' letters in case the twins want to read them when they are older.
G/O Media may get a commission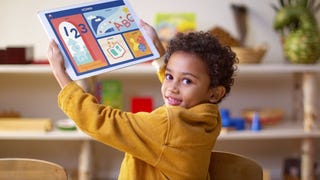 30-Day Free Trial
Homer Learn & Grow Program
"We are the victims, not him. I thought he was going to kill me that night for no reason and my boys saw that," Allman said. "I'm so angry that the law still defends his parental rights and that he is still being allowed to control us from behind bars."