A British couple is facing up to $200,000 in unexpected hospital bills after delivering a baby 11 weeks early while vacationing in New York City. Let this be a lesson to all tourists: Don't come here. Our institutions support only the wealthy and insured, and we will scam you.
According to The Guardian, Katie Amos and Lee Johnston were on a 5-day vacay in New York when baby Dax came along, weighing only 3 pounds. The new family could be stuck here, potentially uninsured, until March. The couple has started a well-publicized fundraising page to cover the costs, titled "Dax's Tale of New York" (and this is where it all becomes very British):
Hi, my name is Dax Johnston. My Mummy and Daddy went on a 5 day break to New York as a last get away before I came along! They went to a cake shop (Mummy loves cakes), and were walking through Central Park on a movie tour and I decided they were having such a good time I wanted to see what all the fun was about, and I decided to pop out 11 weeks early!!!!! Oooops! Maybe it wasn't a good idea as now we are not aloud to leave the hospital until March the 10th!!!!! We need your help as Mummy and Daddy have no money, no clothes, no friends or family or a familiar face to just say hello to! I know they are scared, but they have some good friends back home that are working very hard to help me! I have already appeared in 3 News Papers! Even the Daily Mirror! We are not sure if Mummy and Daddy's Travel Insurance is going to cover our costs so they are very worried as the bill is looking at being over $200,000 which is £130,000!!! Yikes! No matter how small a donation you can make it will be greatly appreciated. Thankyou xxx
Mummy and Daddy are super duper grateful for this opportunity to land in the tabloids. To date, they've raised $9,633 (or £6,248)—with help from none other than amazing mom and insurance whiz Katie Price. What is England?
G/O Media may get a commission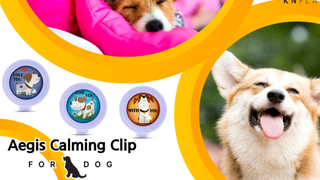 20% off
Aegis Calming Clip for Dogs
If you listen closely, you can hear the tap-tap-tap of a hundred pregnant ladies in Lincolnshire booking flights for their third trimester.
Image via Shutterstock