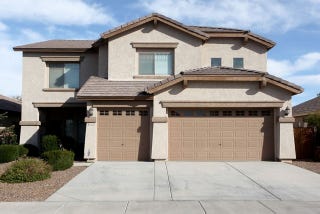 She Who Dances has bought herself this $172,000 home in Maricopa, AZ, which she paid for with cash (possibly in a briefcase). It's 3,900 square feet and has 5 bedrooms for Bristol to not have sex in.
The housing tract has a playground, though Bristol/nanny would be wise to move slowly with the Alaskan child's transition from the northern darkness to the flesh-frying ways of the desert sun.
Oh, and there's a pool, perfect for Levi to pee in.