Gosh. Bristol Palin spills — on message! — to Harper's Bazaar about politics, abstinence, and life as a single parent. On that matter, she refers to Levi as "dirty laundry" and says he's "a stranger to me." Chatty!
It is easy to be snide about Bristol Palin. From her young Republican soundbytes - "That is completely contrary to what made America a great nation. We should be expected to take responsibility for ourselves" - to her abstinence advocacy ( "Like, if you get lung cancer from smoking, why wouldn't you want to tell people, 'Hey, look, don't smoke'") to the partial-monty farce that was Levi Johnston, her time in the public eye has lent itself only too readily to parody. But that's not one's impression after reading the Bazaar profile.
Nowadays, Bristol lives in a "three-story gray townhouse" with baby Tripp, her brother's girlfriend and, on occasion, her younger sister. She herself bought the house, decorated with leather couches and flat-screen TVs, as well as a pink KitchenAid and a leopard-print carpet. She's clearly, as she says, "a hard worker" — but she is also compensated for her work with the Candie's Foundation.
This being Bazaar, we not only see Bristol in a sequined gown and waders, but are treated to lovely descriptions of her getup — she's "dressed down in cropped cargo pants and a maroon pullover" — and that of her mother, who's "wearing an ensemble that reads off-duty celebrity — all black with an army-green newsboy cap pulled low over her eyes." The more you know.
Bristol, as we are all aware, is now a public abstinence advocate with the Candie's Foundation, and the piece does not stint on the realities of life as a teen mom, from her curtailed social life, to the pressures of bills.
Bristol never expected to find herself here: waking up at 5:00 a.m. to fix Tripp's breakfast (usually eggs), get herself ready - "It takes me so much longer with a baby, it's not even funny" - then head to work from 8:00 a.m. to 5:00 p.m. as a medical assistant in a dermatologist's office. "I thought I would be somewhere warm at college with my friends," she says. "But that was definitely not possible with having Tripp."
G/O Media may get a commission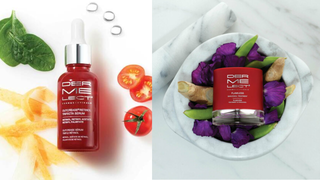 Save $19
Retinol Renewal Kit
Perhaps no detail is more sobering than the description of Bristol "watching her 15-month-old son, Tripp, play with Trig, his two-year-old uncle."
Bristol comes off as a normal-enough 19-year-old who's working hard and managing pretty well, considering. And had she stayed out of the public eye, it would be very hard to fault a teen who, though no fault of her own, was used as a political pawn. Even now, it's easy to feel sorry for anyone who's clearly being stage-managed, albeit in a wholly new direction. But the time for mandated exposure has surely passed. Bristol is, now, deliberately aligning herself with issues and causes that are, to say the least, problematic. Is abstinence the only 100% effective birth control? Yes — but we also know how well it works. Similarly, Bristol may be at pains to show us the "realities" of single parenting — and has gone so far as to acknowledge her privileged circumstances in her PSAs - but she's also in a major fashion magazine, lovely in a designer gown, living in a capacious house that she decorated herself...and which of those facts is more compelling to a young reader? 16 and Pregnant, this isn't. Our friend Jessica Grose adds on XX that her criticism of big government is similarly loaded: "it's easy for Bristol to say that everyone should "take responsibility" for themselves when her entire speaking platform and the money for a new condo are due to her family's connections."
Similarly, for a sex-ed educator of any description, her account of her own is oddly vague.
Though Bristol was well-informed about sex education, "it's not like we sat down and were like, 'All right, here's the birds and the bees.' Truly, my parents just assumed that I wasn't doing anything. And it was a shock for us all.
Whether that's an implicit criticism of her parents or the education she received, it's an odd statement from an abstinence advocate. It's tempting, in response, to point to Sarah Palin's quote: "This is so Bristol. She is a free spirit, a fun spirit." In fact, though, Sarah's talking about her daughter's choice of rug.
Bristol Palin's Solo Act [Harper's Bazaar]
Bristol in Bazaar: We Should "Take Responsibility For Ourselves" [XX]