I have been trying to put Brett Kavanaugh out of my mind until he gets around to overturning Roe v. Wade in, I don't know, like a week or something. I don't have the energy right now to relive his hearings or Senate vote and confirmation. But I couldn't help but read this New York Times recap of his trip back to good ol' Georgetown Prep, where his high school drinking buddies heralded him for managing to evade several sexual assault accusations. A hero, indeed!
According to the New York Times, several friends from the Class of 1983 who made it into Kavanaugh's famed calendar joined him at Georgetown Prep's annual reunion weekend and homecoming game, though it appears that just like the FBI, no one can find Mark Judge or Squi. It also seems like Kavanaugh likes beer just a tad less than he did at last month's Senate confirmation hearing, where he declared it was the mother's milk that keeps his misunderstood little heart humming, so maybe his life is ruined, after all:
At one point during the football game, Justice Kavanaugh prepared to pose for a picture with former classmates. First, though, he instructed everyone to put down their beers, according to a person who witnessed the exchange. (Justice Kavanaugh didn't appear to be drinking.)
Kavanaugh also skipped the post-game drinking event, but it was there that his classmates had their real fun, with the school president declaring the allegations against Kavanaugh—that in 1982 he attempted to rape then 15-year-old Christine Blasey Ford at a party—brought the Class of 1983 together. Per the Times:
"You guys, the Class of 1983, are in some ways my first class," said Father Van Dyke, according to a recording obtained by The New York Times, noting how "we've been all thrown into the mix together." He added that "I have heard so many of your names."
Again his voice was drowned out by a chorus of whooping and cheering, as the crowd screamed some of those names: "Squi!" "P.J.!" That would be Patrick J. Smyth, another classmate whom Dr. Blasey said was at the party where she was assaulted. Mr. Smyth was at the Pinstripes event.
G/O Media may get a commission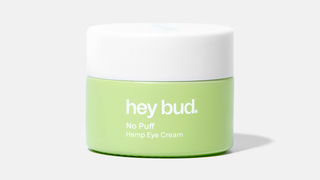 15% off
Hey Bud - No Puff Hemp Eye Cream
So nice to see a group of men come together to celebrate a screaming liar's triumph over a woman who is still receiving death threats for daring to tell her story in front of a nation.