Donald Trump's campaign manager Corey Lewandowski grabbed Breitbart reporter Michelle Fields at a press conference Tuesday night, forcing her away from Trump and leaving marks on her arm, multiple witnesses have attested. Fellow Breitbart reporter Patrick Howley has reportedly been suspended after suggesting the incident didn't happen.
Ben Terris of the Washington Post witnessed Lewandowski grab Fields; here's his account:
As security parted the masses to give him passage out of the chandelier-lit ballroom, Michelle Fields, a young reporter for Trump-friendly Breitbart News, pressed forward to ask the GOP front-runner a question. I watched as a man with short-cropped hair and a suit grabbed her arm and yanked her out of the way. He was Corey Lewandowski, Trump's 41-year-old campaign manager.

Fields stumbled. Finger-shaped bruises formed on her arm.

"I'm just a little spooked," she said, a tear streaming down her face. "No one has grabbed me like that before."

She took my arm and squeezed it hard. "I don't even want to do it as hard as he did," she said, "because it would hurt."
Politico, too, spoke with someone who saw the incident, and who said he nearly brought her to the ground. Fields' boyfriend also angrily tweeted about it:
G/O Media may get a commission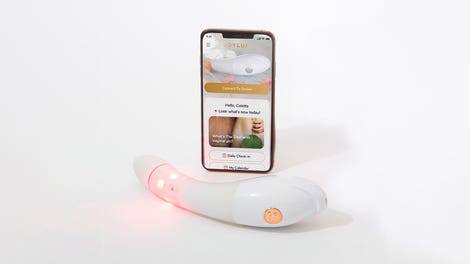 $50 Off
Joylux vFit Gold Device
Which is what makes it terrifically curious that Breitbart reporter Patrick Howely tweetstormed about how his colleague probably wasn't assaulted. They've been deleted, but Hadas Gold at Politico tweeted a screenshot:
Howley previously worked for the Daily Caller, where he got very mad about a lady who was hosting a cable TV show. It's also where he also got in trouble with his own bosses for tweeting lewd remarks about politics reporter Rosie Gray ("'Pumping' @RosieGray must be the most traumatic experience since Somalia," one read).
Howley was hired at Breitbart in August of 2015, according to a press release from the site, which described him as "a college dropout" who has "constantly gone against the established ways of doing things in journalism." Editor-in-chief Alex Marlow praised him as "highly aggressive."
Lewandowski is calling Fields an "attention seeker," linking to the always reliable work of our old, dear friend Chuck C. Johnson:
Breitbart as an outlet is enthusiastically pro-Trump; they're being accused today of downplaying the incident to maintain their cozy relationship with the campaign, though they have confirmed it took place. Meanwhile, as the Daily Beast reports, Howley has been "indefinitely suspended" for his remarks, and should perhaps rethink this whole Twitter thing.
---
Contact the author at anna.merlan@jezebel.com.
Public PGP key
PGP fingerprint: 67B5 5767 9D6F 652E 8EFD 76F5 3CF0 DAF2 79E5 1FB6
Howley appearing on Alex Jones' Infowars. Screengrab via YouTube/ConspiracyScope