A breast cancer survivor in Australia is making headlines after she stripped down on Facebook to show just how the disease impacts a woman's body.
Beth Whaanga found out she had breast cancer last year (NSFW pics below) :
Mother-of-four [Whaanga] was diagnosed with breast cancer on her 32nd birthday last year, with doctors finding she also had the BRCA2 gene, which predisposes women to the disease. [Whaanga]had a double mastectomy and breast reconstruction in November, and with a hysterectomy next on the schedule, her body was riddled with scars.
Whaanga and photographer Nadia Masot developed the "Under the Red Dress" project, to show the realities of what cancer-related surgeries do to women's bodies. Whaanga said she wanted to encourage people to do self-examinations and follow up if they notice anything. From her Facebook post:
The aim of this project is to raise awareness for breast cancer. If you find these images offensive please hide them from your feed. Each day we walk past people. These individuals appear normal but under their clothing sometimes their bodies tell a different story. Nadia Masot and I aim to find others who are willing to participate in our project so that we might show others that cancer effects everyone. The old and the young, age does not matter, self examination is vital. It can happen to you.
G/O Media may get a commission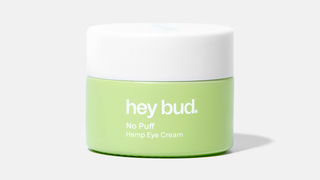 15% off
Hey Bud - No Puff Hemp Eye Cream
The pictures are quite haunting, and show the realities of what cancer leaves behind in its wake. On this annotated version, Whaanga highlights the various surgeries and side effects she has experienced.
Whaanga said when she posted the photos, she lost more than 100 friends. ("Friends" who clearly weren't such good friends to begin with, perhaps.) But she bears no ill will. According to the News.Com.Au, the images from her page were reported as inappropriate, but Facebook has assured Whaanga they will not be removing them. That's a good sign from the social media giant, who hasn't always had the best history of dealing with images of women who have had mastectomies.
"I'm a registered nurse and I really felt I had an obligation to others to raise awareness about cancer," Whaanga said. "If my experience could help others, then I felt like it was necessary to do that."
Following an outpouring of response to her initial post, Whaanga posted this update:
There has been a lot of talk this morning about me being a breast cancer survivor, I'm not sure that this is the right term. I think breast cancer preventer is more actuate. Yes I did have major cellular changes to my left breast and yes I do have the BCRA 2 been mutation, but I was lucky enough to find these changes before they became aggressive or spread. My life was not in danger, I didn't have to fight. I was very fortunate. Of course my mastectomy was necessary it would not have been performed if it was not, with out it my situation would be every different.
I'd hate to think that women and men who have fraught the fight or are still fighting and are true survivors or worse have lost the fight, thought I was comparing my experience to theirs or devaluing their fight. I'm great full everyday that I didn't need to go through what they are going though and have been through.
The aim of the photo shoot was to make women and men aware. Aware of any changes to their body, to show that cancer does not discriminate between gender, race, or age. It effects all of us. For those of us who have been lucky enough to prevent their condition from continuing or occurring we have a responsibility to make others aware.

Lastly, she offers some good advice to everyone: "Check your breasts/ pectorals under your arms and neck. If you find anything don't brush it off, better to be safe and alive."
Images via Beth Whaanga Facebook.