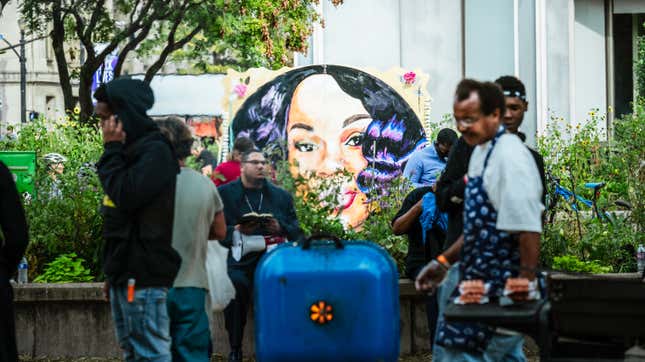 On Wednesday afternoon, a Jefferson County grand jury announced a decision on whether to indict any of the three officers involved with the death Breonna Taylor. Prior to the announcement, Louisville Metro Police Department had declared a state of emergency and even Illinois National Guard was "in a state of readiness" in preparation for what would likely be a disappointing decision for the people who have advocated that the officers face criminal charges.
The Courier-Journal reports that former officer Brett Hankison has been charged with three counts of first-degree wanton negligence, which carries a penalty of either one to five years in prison or a fine of $10,000. If convicted, prison will not be mandatory for the charge, which is a fourth-degree felony in the state of Kentucky.
These charges were leveled against Hankison for allegedly endangering the lives of three civilians in the apartment next to Taylor's when he fired his weapon from outside the apartment door. Hankison's bond has been posted at $15,o0o. The other officers who were present that night, Sgt. Jonathan Mattingly, Detective Myles Cosgrove have not been indicted.
In a press conference Wednesday, Kentucky attorney general and special prosecutor for this case, Daniel Cameron, alleged that Sgt. Mattingly had knocked and announced he was a police officer before breaching the door of Taylor's apartment. This conflicts with prior reports that the police were acting on a no-knock warrant. Cameron told the press that one witness in the apartment complex confirmed hearing the police announce themselves before entering. Upon entering Taylor's apartment Mattingly claimed to have seen one male and one female at the end of the hallway. The male, identified as Kenneth Walker, fired at Mattingly. Mattingly returned fire causing a chain reaction of his fellow officers, who were outside the apartment, firing as well.
The state's investigation, Cameron told reporters, concluded that Hankison fired his weapon ten times, but was inconclusive as to whether any of those shots hit Taylor, who was shot a total of six times. Cameron confirmed that only one of the shots was fatal, but the state could not determine which officer fired the shot. (The FBI, based on the ballistics, came to the conclusion that Detective Cosgrove shot the bullet that ended Breonna Taylor's life.) Because Walker was found to have shot first, Cameron said, Mattingly and Cosgrove's return of fire is considered justified under Kentucky law.
In March, Taylor was asleep in her own home when officers entered and fired their weapons, shooting Taylor six times. Her death, which was overlooked by the national media for several months after its occurrence, was revisited after the death of George Floyd brought increased prominence for the Black Lives Matter movement. Since then Taylor has become a meme of sorts, a stand-in for all the Black women whose lives and deaths have gone unanswered and unpunished. While the unjust result won't change Taylor's legacy—which lives on in legislation like Breonna's law –it is nonetheless a crushing blow.
Update 9/23/20 2:40: This post was updated to include findings announced by the Kentucky attorney general.
Correction: A prior version of this post said a former officer was indicted on six charges, not three. Jezebel apologizes for this error.