Your one stop shop for hours of time-wasting television programming that perfectly pairs with a glass of chilled wine is shaking things up. Bravo has introduced a new logo, jingle and graphics in part to pull in more male viewers with what it calls a "brand refresh."

I'm going to go ahead and assume they mean straight male viewers. Variety reports:
Bravo's color palette will become more gender-neutral, marking a continued effort to bring male viewers to the network.

"We have 'Real Housewives,' which interestingly a lot of men watch," Troiano said. "But we also have a lot more shows that we're seeing more males come to."
Bravo has been making a push for more scripted content to join the already successful Girlfriends' Guide to Divorce and Odd Mom Out. Presumably, they'll be using those shows to bring in a larger male audience because apparently the Real Housewives aren't doing the trick.
If you've recently watched any Bravo programming via OnDemand, you, like me, may have noticed the changes already.
Instead of the bright blue Bravo speech bubble, the revised logo is black and white with sleeker font and rectangular shape. And that "only on Bravo" voice-over that you hear in your head as you're reading this? That will be less auto-tuned and become more natural in tone. Plus, "By Bravo" will no longer be the net's tagline, though it will be used occasionally.
G/O Media may get a commission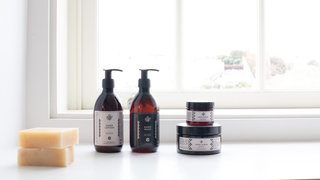 Exfoliate and Hydrate
The Handmade Soap Company
Bravo's website has also switched over.
For now the changes seem mostly aesthetic, so we'll have to wait and see how much this new branding strategy impacts programming. Not to play too heavily into heteronormative gender roles, but my guess is right now, most of their (straight) male viewers are the ones absentmindedly sitting next to their wives or girlfriends.
Shows like Top Chef and Inside the Actors Studio likely pull in decent male audience numbers. First Family of Hip Hop, which recently premiered, and Impostors, which premieres tonight, do have a decidedly more gender neutral tone for Bravo. Truly, I have no predications about how this will work out, but I do know that if the supply of 50-something divorcees with spending problems starts to dwindle on my television screen, I will not be happy.