---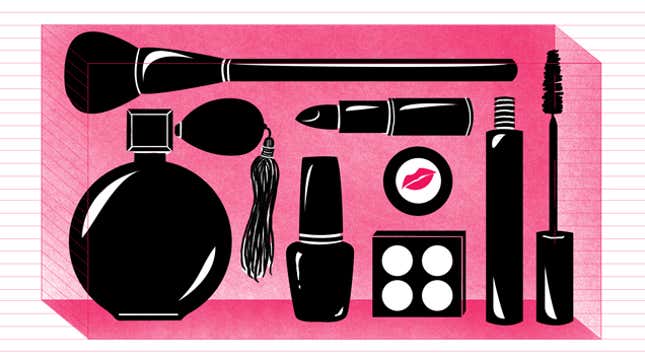 This is a dream column for us: a biweekly review of subscription beauty boxes. Which ones are worth it? Which ones are full of junk? Reader Brandi Kirchgessner will guide us through this world of mystery treats. Here's what she's received recently.
Glossybox, $21 per month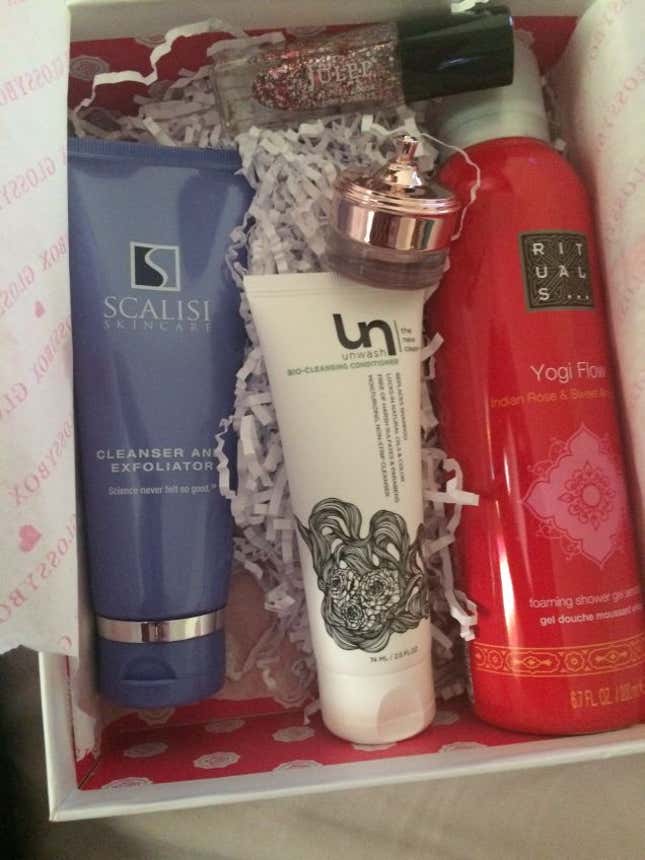 Glossybox is my favorite subscription by far. It is more expensive than some of the other boxes, but the products are generally higher end and are either full size or deluxe sample size. It has more skincare than makeup, but it always has at least one makeup item per month.
Here's what my February Glossybox contained:
Four out of the five items are full size, which is really nice. The entire box was worth $74.67. I will use all but one of these products.
I wanted to love the Unwash, but it is just not appropriate for my hair. My hair looked very flat after using it. My wife, on the other hand, loved the Unwash. I have very thick, straight hair, and she has thin, curly hair. I think shampoo/conditioner combos are meant more for her hair type than mine. I loved the smell of of it, though, and was sad to give it up, but my wife is very happy to have it. She loves to steal my beauty box products. Although I sometimes complain about that, it usually works out pretty well for us. With all the boxes I subscribe to, I end up with more beauty products than I know what to do with. It helps to have a wife who is happy to help me out. We also have different makeup styles, so she will be able to try out the products that I would never use so I can tell you how they work.
The Julep is similar to a nail polish I got in Boxycharm this month. They are both cute, but I prefer the look of the polish I got in the Boxycharm. To really make this nail polish work, you will need a strong top coat to keep the hearts from flaking off. This is the same nail polish Julep subscribers got in February.
The Scalisi exfoliator and cleanser made my skin feel so soft! I can't recommend it enough. The Royal Apothic lip butter feels nice on my lips and offers a hint of color. I don't think I'll ever purchase it, but I'll enjoy it while I have it.
Glossybox really hit it out of the park this month for me. There were lots of complaints from other subscribers, though. Normally, Glossy sends everyone the same five items (perhaps varying the color or scent of an item) or sends people four of the same items and then has two different options for the fifth item. This month, though, Glossybox sent only the Unwash and the Rituals to everyone and varied the other three. While it seems like most people got the Julep and Royal Apothic and most got either the Scalisi or a Jelly Pong Pong mascara, the ones who didn't got some pretty bad substitutions. Some subscribers got a Teadora bar soap (worth $5) instead of the Scalisi or Jelly Pong Pong (worth $22 and $25). The huge price discrepancy didn't seem very fair and it really upset many subscribers.
Also, instead of getting the Julep or Royal Apothic, some subscribers received a Glossybox brand blush and a Juice Beauty moisturizer. The blush and moisturizer wouldn't have been such a problem if they hadn't given subscribers those same products in the November box! I'm very happy with what I got from Glossybox this month, but I'm definitely a little worried if this is how they are going to treat subscribers. I hope that this was just an off month with higher than expected demand, causing them to substitute whatever they had lying around.
Boxycharm, $21 a month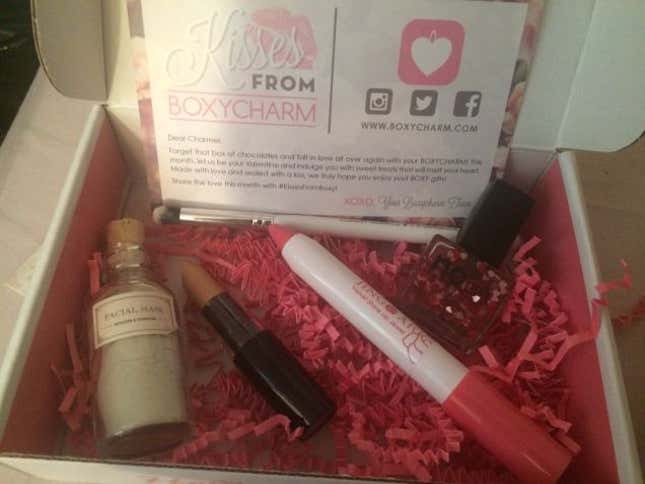 Boxycharm is an okay beauty box. I think about canceling it often, but there is always one item each month that keeps me interested (and there is often an item that makes me go, "WTF?!"). It's a newer, lesser known box than the others I get. All of its samples are full size or deluxe sample size. It often has slightly lower-end brands than Glossybox. Subscribers generally get the same five items, perhaps with some color variation. Boxycharm is heavier on the makeup and lighter on the skincare than Glossybox is.
In my last box I got:
The total value of the box is $97.61.
The brush is nice. I used it for eyeshadow and it worked well. I love the facial mask. It's the first time I've had a powder facial mask that you add water to. I could see it pulling the grease and gross buildup out of my pores. It reminded me a little bit of the GlamGlow SuperMud, but it isn't as thick.
I think the ncLA nail polish is adorable. As I mentioned in the Glossybox review, I got two heart nail polishes in February! Makes sense, given the holiday, but how many does one person need? I prefer the ncLA to the Julep. The Julep polish has glitter and little metallic red hearts. The ncLA one has no glitter, just pink and red metallic hearts. I alternated them on my toes and they are both cute. Like the Julep Heartleigh polish, you would need a strong top coat over the ncLA Heart Attack to make sure the little hearts don't come off within hours.
The Jing Ai lipstick is nice enough, but I'm attached to the lip products I use (OCC Lip Tar!), so I probably won't use it. It's a nice, bright, pretty pink. The complexion corrector works well. They say it can be used for all skin colors because it is meant to correct redness and then have foundation put over it. It is definitely darker and yellower than my skin tone, but my foundation covers it easily and I find the redness to be much less noticeable. There were many complaints from other users that the complexion corrector was broken when it arrived, but mine was in perfect condition. Unfortunately, it broke after a couple of uses. Mistura claims it is because of freezing during shipping.
All in all, I was happy with the February Boxycharm. None of the products really wowed me, but I will use four of the five products.
Birchbox, $10 per month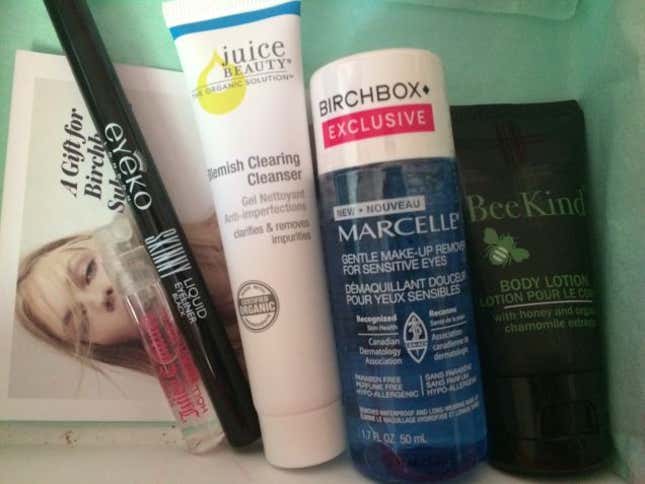 Birchbox was my first subscription. It tends to have higher end brands, but very small sample sizes. Everyone's Birchbox is customized based on a beauty profile filled out upon joining, so there is a lot of variation from subscriber to subscriber in terms of what you get.
This month, I received:
The entire box was worth $25.94.
The makeup remover is great. My makeup just melts right off when I use it. Each month, Birchbox offers its subscribers the chance to pick a sample. They have a video where they show several products and you can choose one of those products to be in your next box. The Marcelle makeup remover was my choice for the February box. They also have a guest curated box each month — a person or company puts a box together with their favorite items and, if you like the look of that box, you can choose that to be your monthly box. The curated box for February was done by Rent the Runway. If you don't like the curated box or any of the sample choices, you can choose nothing and let them surprise you. I've done that a number of times.
Surprisingly, I quite liked the Juicy Couture perfume. The blemish clearing cleanser has helped clear up my skin this month. (Even though I'm 32, my face still likes to break out right before my period. Shouldn't I be too old for that by now?). The lotion is okay. It smells good, but it is very thin. The company that makes the lotion, Bee Kind, gives money to help bees, so I would be open to trying more of their products. I am an avid gardener and really love and appreciate bees.
I don't use eyeliner, so I won't get much use out of that. My wife likes eyeliner, though, so maybe she will use it. I keep forgetting to ask her to try it out.
Overall, the February Birchbox was an okay box, but it definitely wasn't my favorite. Birchbox has some nice products, but the size of the samples is much smaller than I would like. One of the great things about Birchbox, though, is their points system. Each of the four beauty boxes I am reviewing today has a points system, but Birchbox's is the best by far. You review your products each month and get 10 points for each review. For every 100 points, you get $10 worth of credit to use in the Birchbox shop. You can also get points for referring friends to Birchbox. Besides their generous points system, they often send out 20% and 25% off coupon codes, which you can use in addition to your points credit. I got $68 worth of stuff for free a few days ago because I used $50 in points and a 25% off coupon. The points system almost makes up for the small sample sizes.
Ipsy, $10 a month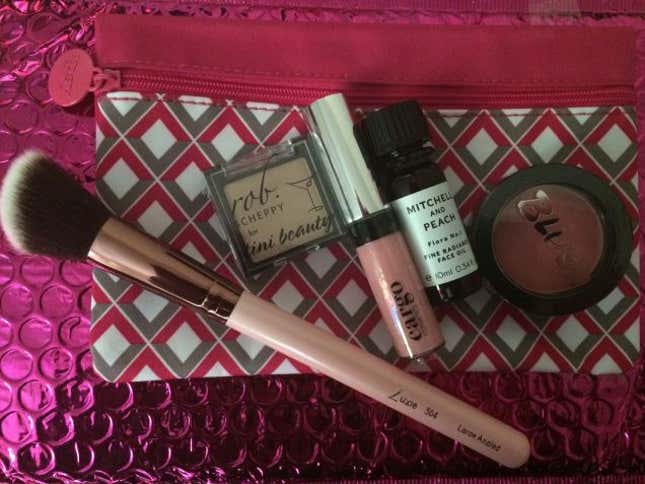 Ipsy is probably my least favorite subscription. It generally has a mix of higher end and lower end brands and often has slightly bigger sample sizes than Birchbox. It also comes with a cute little makeup bag each month, as you can see above. Usually all subscribers get one particular item (this month it was the blush, which came in pink and peach) and then the other four items vary based on the beauty profiles subscribers fill out upon joining.
Here's what I got:
The entire bag was worth $62.14 — not bad for a $10 subscription!
This was not my favorite Ipsy bag, though. I hate lip gloss and I wasn't a fan of the eyeshadow, so I have no interest in those items. I do love the brush and it was smart of them to include it with the blush. The blush is nice, but I have a lot of blush in similar colors. I had been hoping they would send me the peach blush instead of the pink. I have yet to try the face oil, but I do love oils. I can't believe it is a half-size sample! It is pretty small. While I'm sure I will love it, I probably will not go out and spend almost $50 to buy a teensy bottle of it.
---
Beauty boxes are all about stepping outside of your comfort zone and trying things you wouldn't normally try without spending a lot of money. Some of those things are going to be a bust, but sometimes, you will discover an amazing new product that you just can't live without. For February, Glossybox was the clear winner.
Come back in mid-March for a review of this month's first three beauty boxes. In addition to Boxycharm, Glossybox, Ipsy, and Birchbox, I will also be reviewing PopSugar Must Have and Petit Vour. PopSugar Must Have is more of a lifestyle box than a beauty box. It has some makeup, skincare, and hair care, but it also has food, accessories, jewelry, books, clothing, and fitness items. Petit Vour is a box that features only vegan and cruelty-free beauty products. I have yet to receive boxes from either of them, but I am very excited about both.
Are there any boxes you love? Any that you thought you would love but ended up being horrible? I would love to hear about your beauty box subscriptions in the comments.
Brandi Kirchgessner has always loved getting mail and wearing makeup, so she was ecstatic to discover beauty boxes. She lives with her very understanding wife, three dogs, and five cats.
Illustration by Tara Jacoby.