An Irish woman in her mid-to-late 20s is being kept alive on life support against her family's wishes because she is 16 weeks pregnant. The woman is reported to be clinically brain-dead after suffering severe head trauma and a subsequent blood clot in her brain. The case will likely end in court, with her family battling an attorney specially appointed to argue on behalf of her fetus.
The Irish Independent was first to report on the situation; the woman, who has not been named, had been on life support at the Beaumont Hospital in Dublin for the past two weeks. Although she is definitively brain-dead, according to the Independent, she is being kept on life support due to her pregnancy, and her body was recently transferred to another hospital with "fetal assessment facilities." An unnamed source told the Independent that the woman's parents want her to be allowed to die, and the hospital is seeking legal advice on whether it can accede to their wishes.
"The legal advice would be there is one life here and it is the unborn child," the source told the newspaper. "Everything practicable has to be done – and that's both under the constitution and the legislation passed last year. There is also a high possibility the unborn child will not survive."
Ireland has highly restrictive abortion laws. From the Guardian:
Under the 8th amendment to the Irish Republic's constitution the foetus inside her is as much an Irish citizen as the clinically dead mother.
In 1983 a coalition of conservative Catholic pressure groups sought and won a national referendum that effectively made even the embryo after conception an Irish citizen fully protected under the law.

G/O Media may get a commission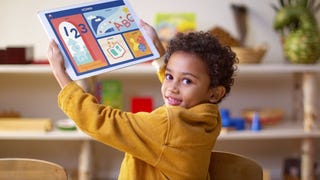 30-Day Free Trial
Homer Learn & Grow Program
In 2012, 31-year-old Savita Halappanavar died after being refused an abortion in a Galway hospital. As a sort-of response to the subsequent outcry, last year, the Irish Parliament did pass the Protection of Life During Pregnancy Act, which theoretically was supposed to make it legal for a pregnant person to obtain an abortion if their life was in danger, including if the person were suicidal. But guidelines on how the bill would be implemented obtained by the Guardian showed that an anti-abortion physician could prevent a suicidal person from obtaining an abortion. A pregnant woman referred to in the press as Y who said she was suicidal was forced to give birth by Caesarean section, even after she went on a hunger strike to protest being denied an abortion. The baby was born at 25 weeks and taken into state care.
In this latest case, the brain-dead woman's family is said to be close to challenging the hospital in court, meaning an attorney representing the Irish state would be appointed to argue on behalf of the fetus. Ireland's health minister Leo Varadkar said earlier this week, before her story became public, that the country's abortion laws are "too restrictive," a remark that was somehow controversial.
A very similar situation played itself out in Fort Worth, Texas last year, when Marlise Munoz was kept on life support for two months against the wishes of her husband and parents because she was pregnant, even though the pregnancy was soon found to be non-viable. Her family ultimately won a challenge to take her off life support.
Beaumont Hospital. Image via Wikimedia Commons