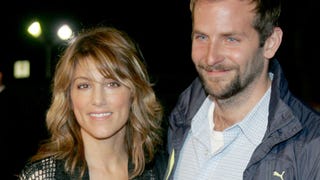 Bradley Cooper's ex-wife Jennifer Esposito has written a memoir in which she discusses a toxic relationship she was in; after applying very precise forensic procedures (an IMDB search) to her account, it's fairly evident that she's talking about Bradley.
According to NY Daily News:
She describes the mystery suitor as, "funny, smart, cocky, arrogant and a master manipulator," adding that she didn't "necessarily find him that attractive." They quickly became a couple, although the actress says her boyfriend had a "mean, cold side" and "his personality could flip on a dime."

Esposito claims the relationship was an unhealthy one, focused primarily on his needs and nothing else and that she was "a nonissue." Esposito also writes that she felt "sidelined" from her own health and needs.
"I became very sad and felt very alone," she writes. The union ended after she attended a seminar at the Agape International Spiritual Center in Los Angeles in 2007, she writes, which is when her marriage to Bradley ended.
On the bright side, she's now focused on her own health (she suffers from celiac disease, and she's since opened a gluten-free bakery) and doing well. [NY Daily News]
---
George Clooney and Amal Alamuddin celebrated their engagement yesterday, in a restaurant that was very busy because of Mother's Day. Everyone looked v. casual. Bono was there. All the other restaurant patrons said it was "the best Mother's Day ever." [E!]
---
Here is the most suspect Rihanna/Drake rumor of all time: Rih is mad at Drake for saying "Babe, you're too needy. Let me hustle, babe." Some issues with this: 1) Rihanna is a professional no-fucks-giver; 2) I would like to believe that I live in a world in which no one sandwiches his request for space between utterances of the word "babe." [The Hollywood Gossip]
---
Photo via Getty.