When Brad Pitt and Angelina Jolie spotted their dream château near Aix-en-Provance whilst flying over the French countryside in a helicopter nearly a decade ago, they had no way of knowing their thoroughly charmed bliss would be rudely interrupted by a lawsuit. I mean, sure, they could have just paid the interior designer for more than satisfying Pitt's Jean Nouvel kink, but that's not really in the nature of wealthy and extravagant celebrities.

Interior designer and lighting connoisseur Odile Soudant sued the ex-couple for failing to pay or credit her for her work, the Guardian reported on Thursday. The suit had remained out of the press for some time (it was first reported by Libération on Wednesday), but in April, a Paris court of appeal ordered Château Miraval, a Jolie-Pitt company, to pay Soudant €565,000, of which €60,000 was demanded for damage to the designer's reputation.
According to the Guardian, Pitt hired Soudant in 2010 to flood his and Angelina's French abode with light and gave her "carte blanche" (though no contract was signed) to do so. Soudant sent Pitt monthly bills to cover her expenses and employed 17 people to make his blindingly bright dreams a reality.
€25 million later, the project still wasn't finished. Meanwhile, Pitt had stopped paying Soudant but was still sending her emails asking her to, "Come here please. I need you to finish," according to documents Soudant presented in court. Pitt also pleaded with Soudant not to take legal action against him for not paying her, but still wanting her to work, writing "Don't waste time with legal action. Follow your artistic journey and don't worry about the rest."
I wonder if Pitt would have taken the same advice? Pitt and Jolie are reportedly holding onto their beloved château, now that they've split, in order to keep making money off the wine an olive oil it produces.
G/O Media may get a commission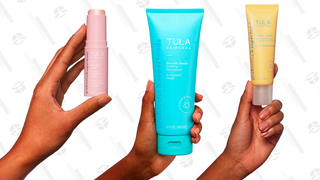 ---
Looks like Robin Thicke and girlfriend of two-or-so years, April Love Geary are expecting their first child. Here's the blessed blur of Geary's sonogram.
---
Glenn is ready for her Close-up. [The Wrap]
The sale has gone through on Jay-Z and Beyoncé's new health club/spacecraft/home-sweet-home. [The Cut]
Justin Theroux, Emma Stone, and Jonah Hill are all gonna be on the same Netflix show, a "dark comedy set in New York City." [Deadline]
David Letterman now says that his forthcoming Netflix interview series "will probably be the last thing I do." Also, he plans on being buried in that beard, which has kidnapped the rest of his face. [Page Six]
David Mueller joins the ranks of unemployable assholes (of which, I might add, there are too few these days). [TMZ]
Amanda Knox used her book deal millions to pay off loans and legal fees. [People]
Tiffany Haddish is joining the cast of Night School, a forthcoming comedy about adult education starring Kevin Hart.
Heartbreaking. [EW]