Grayson Bruce, a 9-year-old boy from North Carolina, says he was bullied by his classmates for bringing a My Little Pony: Friendship is Magic lunchbox to school. Instead of doing the sensible thing — like, oh, I don't know, teaching elementary schoolers that it's never acceptable to harm and harass one's peers (or to act like a homophobic little shit), the administration at Grayson's school told him to stop carrying the lunch box because it's "distracting" and "a trigger for bullies."
Ana Gasteyer Satirizes the Girl Boss in 'American Auto'
Buncombe County Schools, Grayson's school district, declined an interview with a local ABC affiliate but released the following statement:
"An initial step was taken to immediately address a situation that had created a disruption in the classroom. Buncombe County Schools takes bullying very seriously, and we will continue to take steps to resolve this issue."
Um, okay. Telling a bullied student to stop enticing the bullies to beat him up with his "distracting" behavior is the exact opposite of a suitable resolution — essentially, the school administration is saying, "If other kids are cruel to you for being yourself, then maybe try not being yourself in public?" In the words of Grayson's mom Noreen: "Saying a lunchbox is a trigger for bullying is like saying a short skirt is a trigger for rape. It's flawed logic. It doesn't make any sense."
Fortunately for Grayson, not everyone in the world is a close-minded garbage human. A Facebook group expressing support for him has over 16,000 members, and a Change.org petition urging the school district to crack down on bullying has amassed nearly 4,000 signatures. And, in the biggest Brony honor of all, his story was picked up by Equestria Daily, a very active My Little Pony fansite. Friendship is magic indeed.
G/O Media may get a commission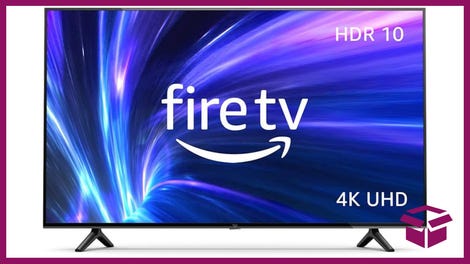 42% Off
Amazon Fire TV 50" 4K Smart TV
Image via WLOS.