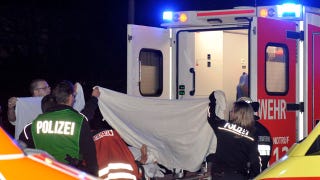 Undefeated German boxer Rola El-Halabi was shot on Friday in her dressing room by her stepfather, Roy El-Halabi, shortly before a title fight in Berlin, according to the Associated Press. He reportedly also shot two security guards before he was arrested.
The three victims were taken to the hospital and 800 spectators were evacuated from the arena. Rola's injuries in her hand, knee, and feet, aren't life threatening, but they may end her boxing career. She described the shooting to a local newspaper, saying:
"Papa rushed into the room ... He threatened us with a gun in his hand and shouted 'Everyone out!' And then he shot me in the hand from three meters. I cried and screamed."
Rola had fired her stepfather in January. She was set to fight Irma Balijagic Adler of Bosnia for the IBF lightweight title.