Winter, much like swiping through Tinder, feels like a practice in endurance and hopelessness. Despite your efforts to stay optimistic, to keep swiping right on life, it only gets harder and harder to find the will to go on. But one industrious Boston woman has found a way to make both Tinder and 2015's never-ending series of blizzards a little bit easier.
Susan, 27, found herself in a spot of bother when her car got buried under several feet of snow. Ill at the time and unable to properly shovel, she decided to take to Tinder to find someone who would do it for her, no strings attached. (She would, however, bring them pastries and chat with them while they shoveled in tandem.)
"Instead of looking for men I was necessarily attracted to, I looked for men who seemed especially wholesome. (If only this Venn diagram had a greater overlap, perhaps I wouldn't be in this predicament at all)," she wrote for Boston Magazine. "In less than 15 minutes, I got 11 matches and three offers. It probably helped that it was the Friday before Valentine's Day. I checked that my roommate would be home, and moved forward on a first come, first shovel basis."
And someone—without any promise of romance, sex or companionship—actually showed up. On February 14, no less:
[Ted] showed up with a shovel and an ice pick, and he did not kill me. He got to work shoveling out my car while I picked up a coffee and a scone for him. I don't live very close to a café, so I was gone for about 45 minutes. When I came back, my car was mostly shoveled out. I helped, we chatted—mostly about his ex—and before I knew it, my car was free. Ted wasn't creepy at all. I think he just got a kick out of being chivalrous and having a little company on Valentine's Day.
G/O Media may get a commission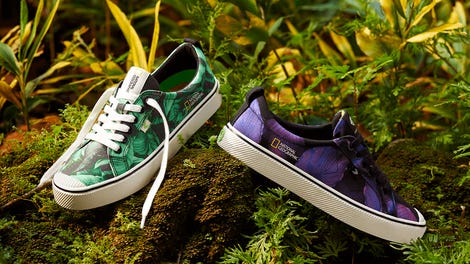 New New New
Cariuma + National Geographic
Since then, Susan has turned to Tinder several more times for help shoveling and has had varying levels of success. As someone who grew up in a winter wasteland and has spent endless hours helping parents and friends dig their cars out of the snow, I have to admit that I'm a little scornful of this idea (shoveling builds character!), but having also experienced the hungry desperation that is snow fatigue, I applaud her ingenuity and admit that I might just be jealous.
Image via the AP, Tinder photo via Boston Magazine.
Contact the author at madeleine@jezebel.com.