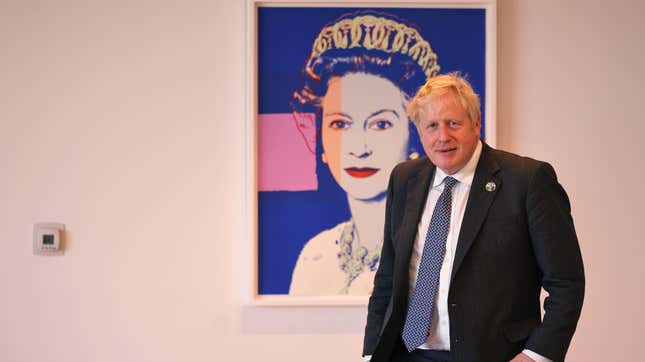 Children remain a mystery to me, a childless crone, and the idea that anyone could produce more than three human offspring on purpose is particularly baffling. So when the Today Show reported that England's Prime Minister Boris Johnson has six (SIX!) children, with one more on the way, I physically fell out of my chair and began to decompose. According to Johnson who sat for an interview with Savannah Guthrie, the prime minister has one child with his current wife, who is also pregnant, four adult children from his previous wife, and one love child from an affair. "It's a lot of work," Johnson told Guthrie. No fucking shit dude!
Ana Gasteyer Satirizes the Girl Boss in 'American Auto'
The revelation that Johnson is a few months away from greeting baby Johnson #7 is both perplexing and disturbing considering who he is and how inept he appears to be at his job and speaking in general. How exactly did this man woo three different women into bed, when he can hardly string a sentence together without appearing as if he's trying to pass a kidney stone?
Johnson's chat with Guthrie wasn't all about the glamorous experience of fatherhood. The prime minister is in New York for meetings at the United Nations before he swings by the White House. Johnson spoke about the aftermath of troops withdrawing from Afghanistan saying, "My country, the UK, owes a big debt to the US military for the incredible professionalism and sacrifice they showed at that airport." Johnson even went so far as to call the removal of troops a "massive logistical success" despite demonstrable evidence to the contrary. Speaking of how much time the United States had spent in Afghanistan, Johnson also commented, "You can't spend all your time trying to run another country by proxy"—which is quite the statement coming from a man who represents a literal empire.
Hopefully his six, soon to be seven children, did not get their smarts from his side of the chromosomal tree.