Bono, a musical artist so successful his band once forced one of their albums upon unsuspecting iTunes users unasked, graced the cover of Rolling Stone for what I assume is the eleventy billionth time this week to discuss his career, health, and, naturally, Donald Trump. Somewhere amid all this, Bono started talking about his children's relationship with music, and he dropped this little nugget:
I think music has gotten very girly. And there are some good things about that, but hip-hop is the only place for young male anger at the moment – and that's not good.
Indeed.
Turns out, in Bono's world, a rock-and-roll revolution is "around the corner," all because (ostensibly white) teenaged boys don't have enough of a modern outlet for their male rage, since it isn't sufficient just to lay claim to Nirvana, Led Zeppelin, The Beatles, Guns 'n Roses, Pearl Jam, Black Sabbath, The Who, The Rolling Stones, Metallica, Tom Petty & the Heartbreakers, Pink Floyd, the Ramones, The Clash, Van Halen, the Sex Pistols, Talking Heads, Bob Dylan, the Velvet Underground, the Doors, Iggy Pop, Aerosmith, David Bowie, Van Halen, Elvis Presley, Bruce Springsteen, Crosby, Stills & Nash, The Cure, Frank Zappa—I could go on (and on, and on, and on, and on), but I won't.
But in 2017, female artists have been permitted to grace the charts, and though Bono acknowledges there are "some good things" about seeing women thrive, Beyoncé's musical ascent has in his estimation left the men with naught but one popular genre to dominate, even though nine out of 10 of the top tracks on Billboard's Hot Rock Songs chart this week were released by male artists/bands.
"In the end, what is rock & roll? Rage is at the heart of it," Bono told Rolling Stone, adding, "Some great rock & roll tends to have that, which is why the Who were such a great band. Or Pearl Jam. Eddie has that rage." Today's (white) men, though, reportedly have no music to call their own, and are therefore relegated only to releasing their rage at being the least oppressed members of society via mediums like film, television, national lawmaking, company CEOing, and Twitter-threading. To name a few.
G/O Media may get a commission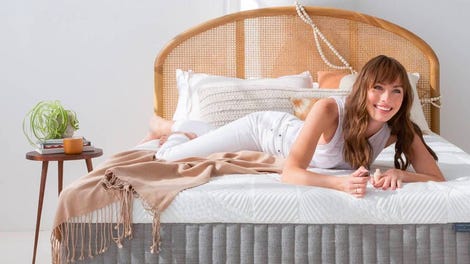 Sleep Sale
Sleep Sale - Brentwood Home