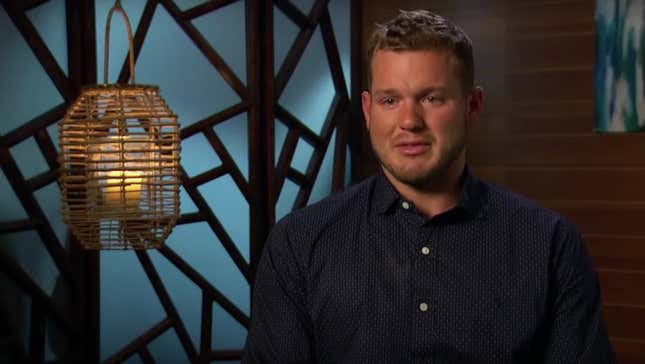 If you watch the Bachelor, you may have noticed the distinct lack of boners featured on the show. In habitats where boners typically flourish—in hot tubs, under kilts, in rivers, etc.—there are none in sight. Where, you wonder, have the boners gone? Is it a clever trick of editing—a little of what they call "TV magic"? Are they collected in a basket and held in the props department until filming wraps? If a boner rises and there's no audience to see it, did it even happen? Yes, promises Colton Underwood, who addresses this issue in his new memoir. Via Page Six:

"They weren't on TV, but boners are a real, regular, and unavoidable part of the show. The producers are sensitive to guys who find themselves in a hard situation."

The reality star, 28, says that a seaside frolic in Thailand with now-girlfriend Cassie Randolph swelled into a tumescent pickle.

Underwood writes that while splashing in the sea producers called him out for an interview but "I wasn't ready to get out of the water." 

Thankfully, a producer picked up on what the dilemma might be and discreetly communicated to the crew that Underwood needed a little more time in the ocean.
Is there a vault, somewhere, containing all the edited boner footage? And can that footage be stitched into a reel and soundtracked by Koyaanisqatsi? Thank you. [Page Six]
---
I refuse to watch Tiger King because I have an extremely low threshold for both animal abuse and mullets, but who am I to deny the rest of you the knowledge that Netflix is planning to host a special reunion episode!

Very exciting! Or is it? Please tell me what to think.
---
Wow that is a RING. [People]
Hilaria and Alec Baldwin are having a fifth baby. [Page Six]
Roseanne is saying things again. [Us Weekly]