I first met Kate in 2011, when we both joined Pizza Island, a shared studio space in Brooklyn, and of course I adored her immediately. Kate's the real deal (as if you could have any doubt). Whenever I move, her books are the ones I put in the "I need these right away" box: they're funny, educational, and comforting to reread over and over. I was thrilled to catch up with Kate and talk about her new book Step Aside Pops and other important matters.
Hi Kate! How's your day going so far?
It's going pretty good! I'm at my parents' place and dad made me a big mug of instant coffee—not the crappy kind, but Taster's Choice, which he considers the good stuff. So I'm drinking the good stuff.
It makes me happy whenever I hear you're at your parents' place. Your family is adorable, I'm always greedy to read more comics about them.
I love them a lot. They don't complain about my comic chronicles, god love 'em.
Your new book is just as funny and joyful as your debut, and I like how you're playing with the format more: sketchy/expressive pencil drawings, riffs on old-timey images. What helps you determine how to execute an idea?
G/O Media may get a commission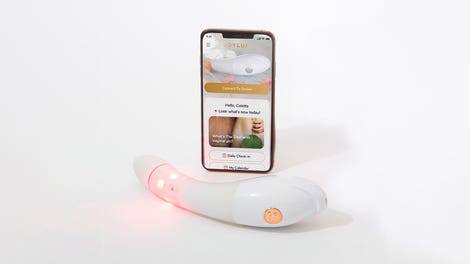 $50 Off
Joylux vFit Gold Device
The format changes happened because I needed to shake things up after a while; I needed to stretch some new muscles. You have to trust your own senses. If something seems more funny in one way than another, make it that way. I think that if you're not enjoying it or engaged in it, it's not going to be good anyway. You have to like what you're doing. If it's a joyless chore, chuck it.
How have your tastes or interests changed in the last few years, if at all?
They have changed. Because of: now I am OLD. I don't know if they have changed intrinsically, but I think they have sharpened and become more defined. I think they become less crass. I think that happens to everyone really though—except like, Adam Sandler.
I just want Adam Sandler to get some nice shoes and go to a tailor, for starters. That blue suit from Punch Drunk wasn't too bad - does he still have that?
He can afford some nice shoes! Adam Sandler makes me think of grade six boys reciting "Piece of Shit Car" on the school steps and trying to mosh. Grade six boys are so hard.
How's it feel to be an OLD so far? I'm personally enjoying the wisdom part. I feel more and more like a witch with some intel.
Being old is great because you're more sure of yourself in almost every way. I feel like after university, I was one of those people who threw themselves into work to pay their loans and kept pushing in fear of things not working out. So sometimes I wonder if I missed out on some essential carefree youth thing, but I'm not the hostel-in-Europe type anyway.
Generally I'm fine until I go to an event where everyone has babies, and you think, "Oh am I supposed to have this by now?" And there's no answer to that, and then the baby you're holding shits itself.
That "keeping up with the Joneses and their quantity of baby shit" stuff definitely gets more intense at our age.
So you share your point of view with your audience in such a fun, inclusive way. Ida Wells stands out in particular: I barely knew anything about her before reading your book.
If I could make everyone on earth know who Ida Wells was, I would make it my life's mission. You read her story and you reel back and think, "WHY didn't I know about this woman? Why why why?" I think she should be on your money, but since I'm in Canada, I can't do anything about that.
I would love some Ida Wells bills, please!
I felt similarly about your comic about Tom Longboat: why didn't I know about this guy before? I had no idea an Onandaga man was a champion long-distance runner and basically invented the concept of "recovery days." How did you find out about him?
I read about Tom Longboat because I was looking up old time sports outfits, which I love.
So, the London 1908 Olympics is the first Olympics that teams came from different countries with national uniforms, I think. Here are pictures: look at those archery ladies in full dresses.
Anyway, Tom Longboat was there, with the maple leaf on his chest, and I picked that up right away in the pictures but also the fact that he was First Nations, so you think immediately, "this guy must have an interesting story."
Are there any historical figures you've tried to make a comic about but it just didn't work out?
For years I have thought I would make a comic about Admiral Yi Sun-sin, the Korean hero. But I never come up with something good. He drove turtle boats! Turtle boats. As adorable as war machines get. You want to watch a movie about him? They made one last year.
ADMIRAL TURTLE BOAT. I think… you might have to revisit this idea, partly because you're really good at drawing turtles. The comic where a guy brings a snake to the turtle party kills me.
People like to point out that there is also a frog on the table in that comic, but I choose to ignore it.
Yeah if people want to be pedantic about creepy-crawlers, it's not your problem! Do you have a daily routine when you're working? I love to ask other artists about this because I'm a mess.
I'm such a mess. I wish was one of those people who gave themselves a 9-to-5 schedule and could actually do it, but when you work for yourself, you usually find that you are garbage at keeping a schedule. I end up being in the studio all day doing things that, if condensed, I could have done in a few hours.
Phew, it's comforting to know we're both garbage!
At least it's not like when I was working from home and I wouldn't see real other people for days. My head would become an echo chamber of my own thoughts rolling around, and I think it made me a bit depressed. I'd read depressing articles or things that made me angry and then I'd tweet them, and Twitter was an outlet where other people were, so I was getting pretty negative, and people were like, "Jeez." Then I thought, I need to get the hell out of my house, and I got a studio.
I actually love having coworkers. I worked at home a lot this summer and it was miserable, I got way too riled up over little internet things!

I think that there are a lot of things for people to be angry about these days. But I'm doing alright in my life, I don't have too many problems. So I guess it is best to listen to people dealing with real things, about what they are angry about and why. I try to do that.
What's something you regret?
I regret not learning to apologize and retract and address when I've made a mistake fast enough. When you're young and you start doing humour, you're going to cross lines you shouldn't, because you're trying to be funny and you haven't learned how to also not be a dick. You think you're being hot comedy, but really you're just a dumb baby who doesn't know anyone's experience but your own, and you don't know all the ways you offend people. They have to tell you.
Usually when you're younger, you're like "I didn't mean it that way!" or find some way to excuse yourself, when what you should have done is listen to who is talking to you and then say sorry and mean it and change what you do from there. We all need to grow up, and there is a lot to learn, and that's fine. But I think when you're older, you always wish you would have done it all sooner.
What makes you feel peaceful/happy?
Being near the ocean. Is that lame? Probably. I've lived in New York and then Toronto for the past five years, and when I come home to Nova Scotia I'm so much less stressed out.I might not be made for the city.
What do you do to relax?
I watch Netflix. Did you wish I said "I read?" I do too.
Same. I need to read more. What's the vocation you fantasize about when you fantasize about quitting comics forever? (We all do that, right?)
Working in museums again! I loved working in museums. I could fill my office with all sorts of little fascinating objects, work on my battered old computer because there's no money for new equipment, and I'd go to community events, and I'd hole up in my work when I wanted to be left alone, and I'd be really passionate about presenting the collections to visitors and engaging them.
But when I wanted to work in museums, before doing the comics, everyone knew it was really, really hard to get ahead in that field. Very hard to move up. I miss it, though.
We've talked before about your interest in exploring sadder, more personal stories. I really loved "Ducks," your comic about working at a mining site. Any plans to make more of this kind of work?
Ideally, yes, I'd make a longer comic about the Oil Sands, a book. Ducks was a test, for me and for the audience, if I could hit the right note and tell the right story. I felt that I had to be a more mature storyteller to do it. I couldn't have done it at 25. But now we're already 10 years past when I first arrived there.
In hindsight, being a young woman is INSANE.
I just read a thing about being a woman and I was like, "Agh I can't even think about this, I have to go for a walk."
I just read the same thing, and then a bunch of comments from men who missed the point entirely.
Are there any other creative projects you'd like to work on but haven't had a chance to yet?
Oh I'd love to have a hand in a television project, and I've done a few things in TV that have gotten to a certain point. But you pretty well have to drop everything else you're doing for it, because TV is all-consuming work, and I always have so much on the go, or I have for the past few years, anyway. Now I have no more book deals, so I'm thinking. I'd like to find something in television that suits me, but I'm not sure what that is.
I can attest that it's possible to work in tv without completely dropping everything else, but you miiiight get a repetitive stress injury and start grinding your teeth at night. No big deal. If you come to LA we can go for forest and beach-adjacent hikes.
I keep meaning to come to LA!
Don't tease! Lastly, you have VERY good taste in movies and miniseries and such. What are some things you've seen or read recently that I should check out too?
Did I make you watch John Adams? I feel like I make everyone watch John Adams. I read one of Abigail's letters to him at a wedding once, about devotion and love. Ugh! Will things ever get more nerdy than that?
I'm also a sucker for period dramas. I hope to catch up on the new season of The Musketeers, which is some silly fun I thought I was not going to get into but I got super into it. And Porthos is a mixed race character in it, which is the sort of thing we'd like to see more of (and a nice nod to Dumas yeah?). There's a website called The Lady and the Rose which lists all the period dramas of the year and what is coming up or what is out and it is basically my TV Guide.
I went to see Far From the Madding Crowd by myself in the theatre and it was great. Basically the main character (Bathsheba) owns and runs a farm, and all these hot dudes keep coming up to her like," Hey I love you, marry me," and she's like, "Get the fuck out of here I'm FARMING." And she hikes her skirts up and pulls up a big turnip. For two hours! Five stars.
Yes you did recommend John Adams! I watched it with my boyfriend and we do Paul Giamatti impressions back and forth because neither of us wants to be Abigail. I'm going to add these movies to my list. Thank you, Kate.
Thank you!
Lisa Hanawalt is an artist living in Los Angeles, CA, and is the production designer/producer of the Netflix original series, Bojack Horseman. She writes and draws a quarterly, James Beard Award-winning food column for Lucky Peach Magazine, and co-hosts the podcast Baby Geniuses with comedian Emily Heller. Her first collection with Drawn & Quarterly was 2013's critically acclaimed My Dirty Dumb Eyes. Her new book, Hot Dog Taste Test, will be published in spring 2016.
Kate Beaton is a Canadian cartoonist who appeared in the comics scene in 2007 with her online work Hark! A Vagrant! Since then, she has become a fan favourite and has garnered a significant following, with illustrations appearing in places like the New Yorker, Harper's, and Marvel's Strange Tales anthology. Her first book with D+Q, Hark! A Vagrant, spent five months on the New York Times bestseller list, and topped best of the year lists fromTime, E!, Amazon, and Publishers Weekly. Her new book, Step Aside, Pops, is now in stores.
Images via Lisa Hanawalt and Kate Beaton