Blue Ivy Carter wears many hats. She is a child of Hollywood royalty. She is a fashion icon. She is a staunch defender of a woman's right to personal space. She is an ender of feuds. And, as she proved on Saturday night, she is an art connoisseur, with eyes for only the finest pieces. She has accomplished all this presumably before learning long division, but once basic math is conquered, Blue Ivy will be unstoppable.
Indeed, according to Vanity Fair, on Saturday night Blue Ivy accompanied parents Jay-Z and Beyoncé to the Wearable Art Gala in Los Angeles, hosted by her grandmother, Tina Knowles Lawson, and step-grandfather Richard Lawson. The event, which benefits the Where Art Can Occur (WACO) Theater Center, featured a live art auction emceed by Star Jones, and Blue Ivy (who, naturally, looked spectacular) was quick to raise a paddle for her preferred piece, an acrylic painting of Sidney Poitier by artist Tiffanie Anderson.
First, Blue Ivy bid $17,000, per reports, but when she was outbid, she raised her paddle for $19,000. Blue Ivy's parents have reportedly taught her the importance of investing in art, hence her enthusiasm. "Her mother and father have been talking about how you gather art and that is a big deal for African Americans," Star Jones said when Blue's paddle first went up. Grandma was in on it too, per Jones: "Listen, you know Ms. Tina told me all of this. Why you think I'm up here talking about it?"
There's some adorable video:
G/O Media may get a commission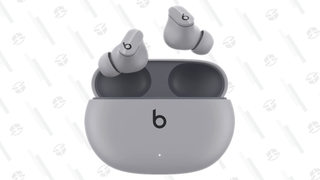 Unfortunately, $19,000 was the max for Jay-Z, and he tried to wrest the paddle from Blue Ivy's tiny hands, paving the way for Tyler Perry to ultimately go home with the painting. And while surely this loss was difficult for little Blue, she did walk away with a piece of her own—a composite of deconstructed law and medical books by artist Samuel Levi Jones, which she obtained at the more child-friendly price of $10,000.