I've been using O.B. Ultra for years. Years! And recently, I found it missing from my local drug store shelves. I tried Drugstore.com, Walgreens.com, KMart.com, Amazon.com Target.com and the awesomely named Tampons, Pads and Beyond. No luck.
Ana Gasteyer Satirizes the Girl Boss in 'American Auto'
With fear in my heart, I Googled "O.B. Ultra tampons discontinued." Sure enough, there were web entries. I was in denial; afraid to look. You know, I thought to myself, you can't believe everything you read online. So I went to O.B's official site, and I emailed the company.
Now I am well aware that O.B. tampons are controversial: Many ladies don't "get" them. There's no applicator. You may have you, you know, touch yourself. Down there. But from the first time I ever used them, I was hooked: Small, super absorbent, no complicated packaging — easy to hide when you need to. In addition, instead of getting longer, like some tampons, they get wider as they absorb. The fit is undeniable. So yeah. I'm brand-loyal. And with my heavy flow (TMI but look around at where you are, welcome, have a seat) I was in a panic — absolutely convinced that I can't live without the Ultras.
To their credit, the company answered my email fairly promptly. Within 24 hours. The news was not good.
Dear Ms. Stewart:

Thank you for contacting McNeil-PPC, Inc., makers of o.b.® Ultra Absorbency Tampons. It is always important to hear from our consumers, and we appreciate the time you have taken to contact us.

Unfortunately, production of our o.b.® Ultra Absorbency Tampons has been discontinued due to manufacturing updates. We do intend to bring this product back to market and we are sorry for any inconvenience this may cause for you. We assure you that your feedback will be shared with our marketing management.

We encourage you to try one of the other fine products we offer. Please do look for our products at pharmacies, grocery stores and mass merchandisers.
G/O Media may get a commission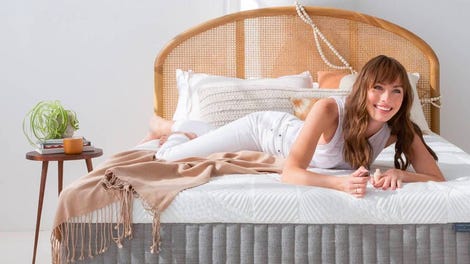 Sleep Sale
Sleep Sale - Brentwood Home
People, I swear, it has been years. Years! How do I just change the way I handle my business every month? I mean, I bought Super Plus, but Ultra just made me feel… safe. I MEAN FOR THE LOVE OF DOG WHAT CAN YOU RELY ON THESE DAYS?!?! Anyway. It's just annoying that a product with which I was so… intimate… up and ditched me.
I'll admit: When my hair gel of choice was discontinued, I found new, better and more effective gunk to spray om my curls. So I'm trying not to fear change. But man, having your usual thing disappear from stores totally sucks. I hope these people realize they have blood on their hands! (Not really.)