16-year-old Essex student Lauren Marbe, who took the MENSA test for fun with other students from Roding Valley High School in Loughton, scored a 161: one point higher than the MENSA scores of Stephen Hawking, Bill Gates and Albert Einstein. In the UK, the average score is around 100. Awesome. I live for this shit. Less awesome: The fact that the main reaction of everybody in Marbe's life seems to be "But you don't look like a genius!" Brain explodes.
Straight-A student Marbe, who is currently deciding between pursuing an architecture major at the University of Cambridge and becoming a West End drama performer, says:
"I am blonde, I do wear make-up and I do go out. I love my fake tan and fake nails as well so I guess I am a bit of an Essex girl in that sense. I watch TOWIE and I love the programme, it's addictive but now most people do seem to think that's what everyone in Essex is like. I love living in Essex and I'm glad that I might be able to show people that we aren't all ditzy and blonde."
Let's look at this the other way: a 16-year-old boy who happens to be "conventional-looking" rings in at a 161 IQ. Do you think anyone's incredulously bringing up his looks as an oxymoron? No.
Despite her good grades, Lauren's teachers didn't seem to find her particularly exceptional ("They had always thought I was blonde and a bit ditzy"), but now, her mother Sue Marbe says, "'All her teachers have been coming up to her and saying they didn't realize how intelligent she actually was." Marbe herself says that she and her husband David were "blown away" by Lauren's score:
"Living in this area there is a lot of pressure to be the stereotypical Essex girl but she has a real nice support from the other girls. Most of the time Essex gets a bit of a negative press. People think all girls are blonde and all girls are dim. Lauren is blonde but it does seem like she has shaken the stereotype that all Essex girls are stupid."
G/O Media may get a commission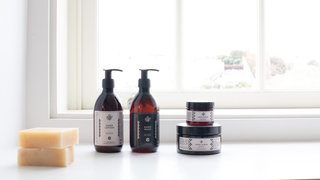 Exfoliate and Hydrate
The Handmade Soap Company
Although this is hardly the last time that Marbe's intelligence will be undermined due to her appearance, that doesn't make it any less frustrating that the focus of this attention is on the so-called "contrast" between her looks and her IQ. You're smarter than all of them, Lauren Marbe. Get it, girl.
'The Essex blonde Towie fan who's officially smarter than Albert Einstein! Lauren, 16, scores a whopping 161 on IQ test' [Daily Mail]
Image via Instagram