"This one's for my blogging angels!" begins 22-year-old Elle Darby's YouTube video, before describing her ongoing feud with The White Moose Café in Dublin. Darby says she has been targeted for harassment since the restaurant posted her email request to stay at their hotel for free, mostly by people "30 years plus."
The White Moose Cafe did share Darby's letter on Facebook, attempting to black out her name, but her identity was uncovered. The post is indeed the roasting Darby characterizes it as in the video above; she had asked for a stay at their location at no cost in exchange for a review and social media posts. In response, White Moose Café asked:
If I let you stay here in return for a feature in your video, who is going to pay the staff who look after you? Who is going to pay the housekeepers who clean your room? The waiters who serve you breakfast? The receptionist who checks you in? Who is going to pay for the light and heat you use during your stay? The laundering of your bed sheets? The water rates? Maybe I should tell my staff they will be featured in your video in lieu of receiving payment for work carried out while you're in residence?
The café actually has a considerable following of its own, perhaps because it is actually known for putting people on blast online. They've already banned vegans, and now bloggers are no longer welcome on the premises:
G/O Media may get a commission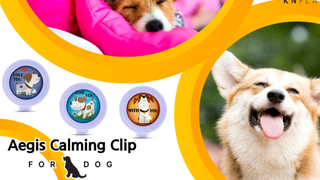 20% off
Aegis Calming Clip for Dogs
Owner and operator Paul Stenson writes:
Following the backlash received after asking an unidentified blogger to pay for a hotel room, I have taken the decision to ban all bloggers from our hotel and cafe.

The sense of entitlement is just too strong in the blogging community and the nastiness, hissy fits and general hate displayed after one of your members was not granted her request for a freebie is giving your whole industry a bad name. I never thought we would be inundated with negative reviews for the simple reason that somebody was required to pay for goods received or services rendered.
Stenson also mentions Darby's video, which really kicked the feud up a notch. Now everyone is being harassed, and Stenson has been posting the unhinged messages Darby's followers are DMing their various accounts.
In her video, Darby claims that she had no intention of commenting on the subject, until other bloggers reached out to her and asked that she take a stand. For them. For us all! She says she's saddened that "older people" haven't taken the time to educate themselves about the blogging industry and are attacking a baby 22-year-old.
Creating content is an exhausting job and the perks often come in the form of goods and services, not necessarily money. I myself once received a pack of cheese curds from Wisconsin Cheese, but only after I wrote about them of my own free will. There was no deal involved. But Darby didn't take the time to educate herself about the place she was emailing, which might have prevented the whole imbroglio. Though, why would she want to do that? Even negative attention draws views.
Kind of a bummer that all bloggers are now banned from Stenson's White Moose Café, because I was hoping to visit. However, I understand completely.