In the wake of Shit My Dad Says, the internet has spawned yet another TV project. Alexi Wasser's "provocative" blog, ImBoyCrazy.com, will be a half-hour comedy on Showtime. You know, the lady network?
With shows like The Big C, Weeds, Nurse Jackie, The Secret Diary Of A Call Girl and The Real L Word, Showtime is really making a commitment to ladycentric TV.
Alexi Wasser (whom you may have seen some bit parts, or in a York Peppermint Patty commercial) will star in Boycrazy, which focuses on her "looking for love, purpose, and the meaning of life, one dude at a time."
It's cool that the idea was not born of a bunch of guys sitting around a boardroom wondering "what women like." But is Wasser's blog better than any other single woman's blog? Whether Wasser can make the show actually interesting or funny remains to be seen. Highlights from her blog:
I'm pretty sure that pencil skirts were invented by murderers so women couldn't run away from them.
When it comes to being mean to myself, I'm the worst! I always have been. No one could ever be meaner to me than i already am/have been to myself.
LADIES! no cat-boxes in your apartment! It's not a sexy look! Don't let the smell of cat urine be your signature calling card/what you leave men thinking about as they exit your bedroom.
don't drive when you have to pee! cuz if you get in a crash, your bladder could break and the pee will poison your insides. true story!
Just because someone's a huge flirt, doesn't mean they're incapable of love and monogamy! Exhibit a (you can't see me, but I'm pointing to myself).
Going to the movies by yourself is one of the best things in the whole wide world! IF you can bypass the fat counter and make it into the theatre without buying popcorn, candy, and soda! but, even if you can't (madonna used to LIVE on popcorn- and she was never super fat!), solo movie going is an epic experience all around!
G/O Media may get a commission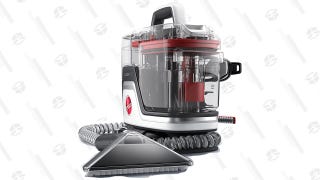 Save $10
Hoover CleanSlate Plus Carpet & Upholstery Cleaner
So: A young, catty, hipster-ish Sex And The City, set in L.A., with fewer gays, more dudes in bands and blow jobs. But moments of real honesty and soul-searching. Could be good?
Showtime 'Crazy' For Blog-Based Comedy [Deadline Hollywood]
ImBoyCrazy.com [Alexi Wasser's Blog]