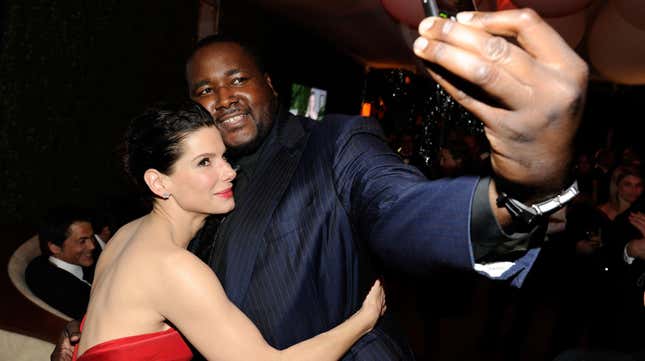 The drama between retired NFL player and inspiration for The Blind Side Michael Oher and the Tuohy family who supposedly adopted him is only getting messier. But in one corner of this potential fraud universe, a key player is trying to turn down the heat.
Oscars Biggest Snub in 2022? Behind The Scenes Crew Members
Quinton Aaron, the actor who portrayed Oher in the 2009 film and the human embodiment of a cuddly teddy bear (disclosure: I say this because I met him once at an event, and he was endlessly kind and gave the sweetest hugs), has come to the defense of his co-star Sandra Bullock, who won the 2010 Best Actress Oscar for her portrayal of Leigh Anne Tuohy, the woman who claimed to be Oher's adoptive mother.

Since news broke Monday that Oher had filed a 14-page petition in Tennessee claiming that the Tuohys never legally adopted him and that the family has been profiting off his likeness for years, some on Twitter have been calling for Bullock to return her Oscar. But Aaron told TMZ Wednesday that Bullock has nothing to apologize for, haters be damned.

"To make a statement like that doesn't make any sense," Aaron said. "Sandra Bullock didn't have anything to do with the real story that we're reading as of right now. She gave a brilliant performance, and that shouldn't be tarnished for something that had nothing to do with her."

Perhaps saying this had nothing to do with Bullock is a bit of an exaggeration. Granted, we don't yet have the full picture here, but Bullock did play a part in enshrining a woman who, as alleged by Oher, tricked Oher into agreeing to a conservatorship and profited off of his success and story. Obviously, Bullock didn't sign onto the role thinking, "Actually I'd love to help heroize a greedy white lady who wants the world to think she saved a Black kid from poverty." Maybe a notes app statement down the road would be nice, but remember that Bullock is currently grieving the tragic death of her soulmate, so I'm inclined to give her a bit of grace here.

Aaron also mentioned to TMZ that while he hasn't spoken to the Tuohys since The Blind Side came out, he never picked up weird vibes from them. "I got a good sense from all of them," he said. "They were real cool to me."

Others, we'll note, have had a different experience with them:
As a student of journalism and endless optimism, I've gotta believe that the TRUTH SHALL PREVAIL. As things stand now, the Tuohys have denied Oher's allegations, maintained that they never made money off of the film, and claimed that the former footballer has since demanded $15 million from them. And while the Tuohys aren't Oher's given family, it's starting to look like they won't be his chosen family either. Watch this space…