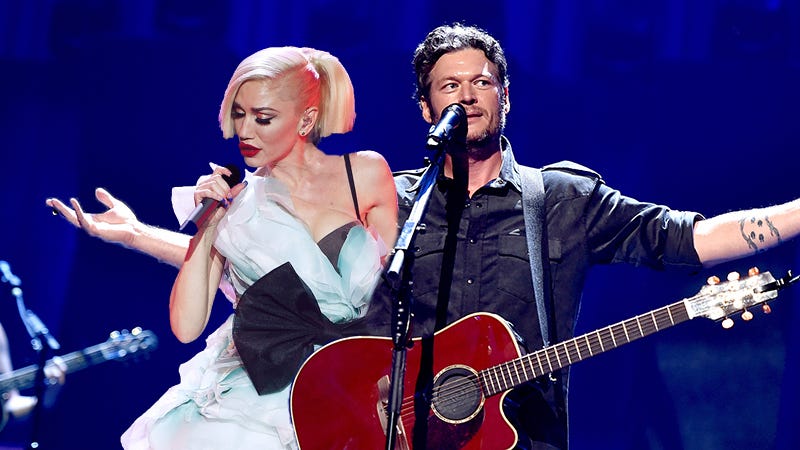 Sources close to Blake Shelton and Gwen Stefani—hereby known as Gwake—would like to shut down all the rumors that the couple's relationship is nothing but a ploy to boost ratings for The Voice. As illustrated in the photo composite above (as non-blurry photos of them being intimate do not exist), Gwake are closer and more in love than two celebrities have ever been.
One of Gwake's confidants told Page Six:
"They've worked together for a couple of seasons. The nature of what they're going through would open the door. They got closer because they're going through a similar thing together with heartbreak. They found common ground and it turned into something. She's feeling great. She's enjoying him. He's charismatic. He's funny and he's a good-looking guy. What's not to love?"
Other sources went to TMZ to share their tales:
Gwen, we're told, was "blown away" by the kindness Blake showed her after she split with Gavin. "It made her feel good again," said one source. Blake also won her over by just being fun ... something Gwen said she had been missing in her life for a long time.
If asked, "How deep is your love?" Gwake would say, "Quite deep, indeed." So quit asking questions. Their love is real, and it is spectacular.
---
In an interview with Billboard, Justin Bieber had a lot to say about his "pretty nonexisting" relationship with his mother, Pattie Mallette. (I forgot he had a mother, to be honest, as she doesn't make headlines by tweeting about her son's penis.)
Anyway, here's what Bieber said:
"I never wanted my mom to be disappointed in me and I knew she was. We spent some time not talking, so it takes time to rebuild that trust. She's living in Hawaii now, so it's hard, but getting better. She's an amazing woman and I love her."
I don't want to do the job of a powerhouse Hollywood executive because honestly who the hell am I, but if someone doesn't make a movie about the semi-estranged mother of a pop star living her best life as a single woman in Hawaii and cast, like, Amy Adams with a killer dye job, then I have no faith in the movie industry anymore.
---
I love love love this video of Steve Aoki meeting Celine Dion.

[ONTD]
---
---
Contact the author at bobby@jezebel.com.
Images via Getty.