What's to blame for the achievement gap between black and white schoolchildren? While an entry in the Guardian's Comment is Free blames black women for "feminising" boys, Essence magazine discovers that the problem is far more complicated.
The achievement gap - defined as the persistent difference between test scores on math and reading between black and white students - has been a subject of concern in the educational community for more than a decade. The disparity is often attributed to various factors, including school quality, home life, and parental involvement.
The current issue of Essence writer Francie Latour covers "The Middle Class Achievement Gap, "taking a look at households that are normally considered immune to this type of social issues: middle to upper class, many with two parents in the home.
In Teaneck High School, students hail from upper middle class backgrounds. However,
"The African-American students, who make up 54 percent of the student body, can claim as many advantages as any other group: Some are the children of cardiologists, college professors, lawyers, and corporate executives. One might think that the national education gap between Black and White students does not apply in this largely middle-class setting. "Not so," says the school's principal, Angela R. David, who is African-American.

According to Davis, test scores indicate that about a third of Black and Latino students do not perform as well as their white classmates. Even more surprising, many of the school's Black and Latino children from affluent households also struggle academically.
G/O Media may get a commission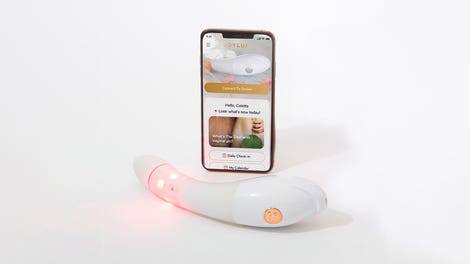 $50 Off
Joylux vFit Gold Device
This information flies in the face of assumptions that the achievement gap is the fault of single parent households or black women. Most recently, this tripe was regurgitated in the Guardian, with Tony Sewell perpetuating two misogynistic stereotypes: that it is impossible for women to raise a boy properly, and indicting women for failing to select a suitable partner, rather than looking at the scores of men who abandon the children they sire. Sewell writes:
When we set up the [academic summer camp] programme, we had high aspirations to nurture the next generation of black Britain's intellectual best. However, our academic ideals soon became secondary; many of the boys, once freed from the arms of their single mothers, suddenly had to cope with a world run by adult black males – figures in their lives who were mostly absent, unreliable, despised by their mothers, and usually unsuccessful.

These boys kicked up against us. It was like we were their dads who had walked out of their lives, and suddenly we demanded their respect.

More than racism, I now firmly believe that the main problem holding back black boys academically is their over-feminised upbringing.
This logic is deployed often to explain why black boys (never girls, no one is concerned) fall behind academically - but the report in Essence is remarkable because it shows this academic gap is still present within financially stable, two parent homes.
So what's the problem with Teaneck, New Jersey?
Some experts see the problems as part of shifting societal norms about the role of a parent in education. The article mention how more and more black parents are focusing on extra-curricular supplements to the school system (like foreign language classes, college tours, and family run field trips) to help their children achieve. But the next sentence is telling: "In other words, they are adopting the aggressive, proven strategies for boosting performance that many plugged-in, affluent White parents take on almost as soon as their children are born."
The parents quoted in the article care deeply about their children and their scholastic future. But many came of age in a time when schooling and education was the responsibility of the teacher and the child, and the parent was there to ensure discipline. Many parents still reflexively defer to the school system and teacher's decisions, while juggling all other responsibilities.
Essence profiles various parents and their involvement, and the narratives reflect the same shell-shocked feeling when it comes to additional parental responsibilities after enrolling children into school:
Deanna Toler-Kuhney, 49, had a vastly different upbringing. When she was a schoolgirl growing up in the 1960's, there was a certain rhythm and routine to her education, and for the most part, it didn't include her parents. "My mom would ask, 'How was school?' I would say, 'Fine,' says Toler-Kuhney, a mother of three and a project manager in Silver Spring, Maryland. "I did my work and my mom would say, 'Isn't it right?' And that was really it. She didn't check it. That's how things were in my family.
Toler-Kuhney changed her tune after seeing district test scores, and seeing how far behind young black children were falling. She and a group of other parents formed a tutoring group, and Toler-Kuhney immediately saw an improvement in her daughter's test scores. However, as the article notes:
It's the [...] parent-school partnership Harvard's Ronald Ferguson insists it is critical if the achievement gap is to be closed. "Parents of color often defer to institutions more than Whites," he notes. "Even upper-and middle-income parents sometimes will work really hard to move into the best school system in the area, and then watch and wait for the school system to turn their kid into a great student, not understanding that a lot of the work is still theirs."
Essence [Official Site]
Black-White Achievement Gap Narrows On NAEP [Education Week]
Black Boys Are Too Feminised [Guardian]