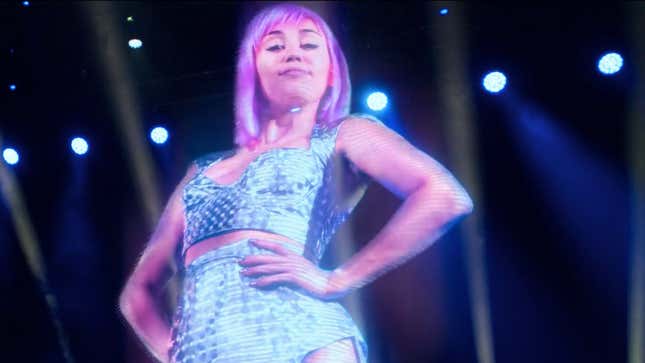 I cannot stop listening to "On a Roll," the pop song featured heavily in Episode 3 of the latest Black Mirror. It is Nine Inch Nails's "Head Like a Hole" interpolated into pop—lyrics by Black Mirror co-creator Charlie Brooker, music by Isobel Waller-Bridge—with a tiptoeing synth and delectable harmonies in the low timbre of Miley Cyrus, who's seen some shit. "I'm stoked on ambition and verve," she sings acerbically, through a red-carpet-ready smile. "I'm gonna get what I deserve."

Others have written about how the episode, titled "Me, You, and Ashley Too," uses pop music as a stand-in for inauthenticity and rock and punk as an avatar for emotional truth, a false dichotomy that backfires in the same way it backfired in A Star Is Born. (Like Lady Gaga's "Why Did You Do That," the song is, ironically, one of Cyrus's best in years.) But its analysis of the way capital-centered empowerment feminism has encroached into culture to the detriment of women and non-binary femmes is dead-on, even sophisticated in the fashion of the best Black Mirror episodes.
Ashley O, played by Cyrus, is a pink-haired teen pop icon whose songs, and message, are that girls can do whatever they want if they just stay positive and put their minds to it. This maxim has been a deceptively apolitical facet of feminism for at least 25 years—in the mid-'90s, after the political momentum of the third wave was subsumed into Girl Power t-shirts sold at big-box chain stores; in the somnambulist folds of Obama's second term, when the illusion of progressive mobility manifested into the rarefied corporate aspirations of Lean In; and more recently in the months leading up to the 2016 election, in which the concept of feminism seemed flattened into representation and visibility (usually of white women) at the expense of inclusive collective action and engagement.
Listening to Ashley O's broadly empowering message, the first analogue that came to mind was Rachel Platten's "Fight Song," Hillary Clinton's campaign theme that deployed the same kind of generalized Just Do It lyrics and inspirational spunk. In the opening scene of "Rachel, Jack, and Ashley Too," shot by Norwegian director Anne Sewitsky and written by Black Mirror co-creator Charlie Brooker, Rachel (Angourie Rice) is sitting alone at her school lunch tables and watching an Ashley O video on her phone. The lyrics—"Hey yeah whoa-ho, I'm on a roll, riding so high, achieving my goals"—suggest not just a darker subliminal underbelly to Ashley O's life as a pop star, but also the isolation and sadness Rachel is experiencing at a new school following the death of her mother. For Rachel, the video, like the best pop videos, offers her an emotional escape—Ashley's beautiful and transmitting effervescent happiness, on a set as shiny and gleaming as her crop top and hot pants, in sharp contrast with the dreary mundanity of the cafeteria. While using pop music—the domain of teen girls—might be an obvious and played-out device as a stand-in for what capitalism is selling, it's an effective one here for the way positive feminist messaging is packaged and pushed in an effort to wipe out emotional nuances in individuals, particularly the peskiness of bad feelings, a distraction from an inequitable climate.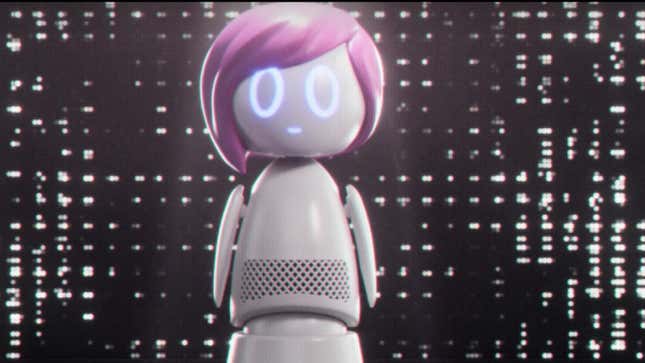 G/O Media may get a commission
25% Off
Coleman SaluSpa Inflatable Hot Tub Spa
It's not just a critique of empowerment messaging here, though—Brooker is less interested in demonizing pop as a construct than he is indicting capitalism and surveillance technology, Apple as an entity, and the Amazon Echo. Ashley O, whose career and creative output is not just managed by her aunt but closely controlled by her, is kept in line by "illegal" pharmaceuticals administered to her by a shady psychiatrist, meant to conjure the artificial and perpetual happiness of her persona. As she secretly squirrels away the meds, she's increasingly sullen and dissatisfied by her lack of control or ability to present as the complex person she is, writing on her piano sad songs about being caged that her aunt would like to deep-six. Simultaneously, a Pomeranian-sized Ashley O robot is being marketed to her legion of teen girl stans; comprised of a full scan of Ashley's brain and personality, it uses A.I. to interact with users and spout eminently perky shit and notes of encouragement like, "You're a special person!" "Expressing yourself musically can be very empowering!" And, most on-the-nose: "We could try a makeover—or, I could read motivational quotes from inspiring women!"

As Ashley and Rachel's stories intersect—each of their pain is being negated or wiped away by the Ashley O marketing machine—it's increasingly clear that the positivity messaging is a capitalist trap for both star and fan. While teenybopper pop music as a genre is unfairly demonized for usually gendered reasons—girls make and like it, teams of songwriters often compose it, it is rarely very interested in guitars—it is also true that the system behind it is often exploitive of the teen girls making it. We don't even need to invoke Kesha's narrative, which this episode slightly mirrors, nor Britney Spears's, when Miley Cyrus is the perfect example of this, invoking some of her own experiences as Disney's Hannah Montana for the role of Ashley O. She told the Guardian last week that the episode "really portrays the overt exploitation of artists and that numbers usually eclipse the creative most of the time," and that "there is a part of Ashley O that is not a character. I worked closely with Anne, the director, and the show creators to share some of my personal experiences and help craft the episode."
The capitalist mastermind of this episode—and the quintessential stand-in for market feminism—is Ashley's aunt Catherine (Susan Pourfar), whose greed is channeled through and maintained by the Ashley O persona. After she effectively shelves the real-life Ashley O in order to prevent her from breaking free of her contract, she mines her brain for pop songs and develops a hologram in order to continue touring, an aspect of the episode that Brooker has said was inspired by the morbid resurrection of dead artists via hologram in real-life. In a press conference meant to mimic Apple announcements, Catherine stands in front of her creation like Sheryl Sandberg via Steve Jobs with a headset mic and in a white pantsuit, that ultimate symbol of feminist aspiration—and notes that touring is the most lucrative aspect of the music industry, so why lose out on money just because Ashley O is in a permanent state of disrepair?
As the episode becomes increasingly spoofy—purposely, no doubt, not unlike the wacky antics on Hannah Montana—Ashley O begins a journey of true empowerment, finally able to follow her own path. (Sure, it's towards a punk rock band, but rockism is a secondary concern in an episode about reclaiming one's agency.) And it's a good lesson, as the smiling vagaries of empowerment feminism begin to fall away for a more urgent application of practical activism—the market has long wanted to convince us it was one way. But it's the other way.