Teen Vogue editor-in-chief Elaine Welteroth made a cameo as herself in last night's episode of black-ish, the topic of which hit close to home for many of us—white privilege and white people benefiting from nepotism.

The episode, "Nothing But Nepotism," finds Dre struggling with how much he should help his daughter Zoe in her quest for an internship and weighing the potential effects it might have on her work ethic. To wit, in his opening diatribe, he explains the history of nepotism and white people using the arms of white privilege for employment advances, the very system of favoritism and friend-hiring that puts a dent in inclusion efforts at so many companies and rewards mediocre white men. "But if you're not lucky enough to be hooked up on that, you have to do it all on your own, which can be tough," Dre explains. "So I learned to work twice as hard to get what some of those nepotized people had given to them. And eventually, the hard work I did paid off." Sounds quite familiar.
Going against his initial instinct, Dre flexes his advertising connections to help Zoe land at internship at Teen Vogue, a dream job for a fashion obsessed teen, while stressing that he wants her to work hard rather than slack through life off the strength of her parents' success. Of course, he goes overboard in trying to protect her. In the scene above, Dre rushes Welteroth's office to complain about Zoe getting a promotion at Teen Vogue (which happened so quick, it involves a deep suspension of reality) and ends up just disrespecting his daughter.
The point is that Zoe is great at her job and smart enough to progress on her own. So the argument in this storyline comes off a bit messy since Dre can't really justify his irrational concerns; his daughter is not out here flexing her priv, nor does he have enough influence for that to even happen. "You have no idea who I am do you?" Dre asks Welteroth in her office.
It's great to see this realistic conversation about unqualified white people being favored over hard-working minorities reflected on a television show. In a post about how the black-ish episode came about, Welteroth, who was appointed EIC of Teen Vogue in May of this year (and turns out to be a solid actress), revealed that she pitched the idea for "a scripted integration partnership in conjunction with our December cover," with an episode meant to highlight diversity in the workplace.
G/O Media may get a commission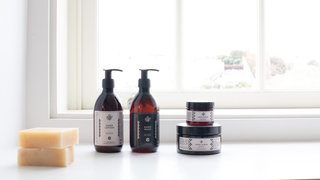 Exfoliate and Hydrate
The Handmade Soap Company
Yara Shahidi (Zoe) served as a guest editor for the cover of the Smart Girls issue of Teen Vogue, and Welteroth has spearheaded various covers like Shahidi's that reflect America's wide demographic far better than adult Vogue.