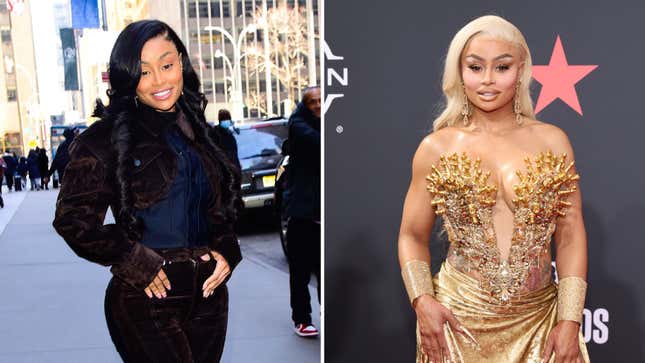 The woman formerly known as Blac Chyna, who's famous for being shouted out in a Drake song; dating Rob Kardashian in his spiral era only to sue his family for defamation; and building an OnlyFans account reportedly worth $2 million, is having her, quite literal, come-to-Jesus moment.

Dirt Bag of the Week: Katharine McPhee
Now opting to go by her birth name, Angela White, the 34-year-old entertainer and former stripper has been making the rounds all over New York City this week as part of a total image and lifestyle overhaul and accompanying publicity blitz: the Blac Chynaissance, if you must. Over the last two weeks, White's physical appearance has changed dramatically as she's shed not only her stage name, but her facial fillers, breast implants, butt fillers, and a demonic back tattoo in an effort to get "back to myself," she told Forbes on Tuesday. Getting back to herself also apparently means spending a lot of time at church and less time making money off horny men on the internet.
"[This change] came from God," White told Forbes in a sitdown interview, explaining that her outer transformation stemmed from an inner spiritual transformation. On May 11, 2022, her 34th birthday, White got baptized and said she chose to give her life to faith, noting that she'd started going to church, praying with other people of faith, working out consistently, and even got sober. "What's right is right, and what's wrong is wrong."
It's a stark shift from the character who made her name in iconic strip clubs and by hanging out on the outskirts of the Kardashian clan—a character who was, physically at least, fake. At first glance, the sudden backpedal away from a look so exaggerated her humanity was stripped away seems largely positive. But it's also disorienting...and emphasizes a dangerous general idea that glorifies "less."
What she doesn't mention, however, is that the sudden God-fearing attitude also happened to come about a week after White's $100 million defamation case against the Kardashians came to a close. At the time, White, who was engaged to Rob in 2016 and shares a child with him, took the family to court claiming that the reality television stars falsely accused White "of physically assaulting Rob Kardashian as part of a coordinated effort to prevent Rob & Chyna [the former couple's reality show] from moving forward on E!," according to The Los Angeles Times. After a 10-day trial, the jury decided the family did not conspire to ruin White's career or defame her. She did not receive any damages. Later that month, a bishop dunked her in a pool.

Fast-forward to March 10, and White announces on The Jason Lee Show that she's getting off of OnlyFans, where she charged $19.99/month for subscribers. She said the decision had everything to do with "setting an example" for her kids: 10-year-old King Cairo, whom she had with ex Tyga, and 6-year-old Dream, with ex-fiancé Rob. "At a certain age, they see and gravitate to everything," she said, asking herself: "What's the example you want to set? Is this really you?"

A few days later, White posted the first in a series of these transformation vlogs from a plastic surgeon's office on Instagram. She's on a "life-changing journey," she writes in the caption—one which started with reducing her "breast[s] and Gluteus maximus." In the handful of videos that followed, White revealed that she was getting facial filler dissolved from her cheeks, jawline, and lips, and expressed regret over engaging in cosmetic surgery at such a young age.
She later detailed that she removed 1,250 CCs (cubic centimeters) of silicone injections from her butt—"a 2-liter Coke bottle all in my booty"—that she had gotten at just 19. There had been complications ever since she had them injected, she said, claiming her ass would get "super inflamed" and "get really, really hard and really, really hot." Her plastic surgeon, Dr. David Matlock, told Access Hollywood the procedure took eight hours, while the standard operating time is around four hours, adding she was lucky that the complications weren't worse. White said the "silicone mass" kept "clogging" and "breaking" the machine.
"Enough is enough. It all has to come out," she said in the video. "Let this be a lesson. Don't even do it, y'all. It's not even worth it…I did it when I was so young. I didn't even give my body time to fully develop. So we try to do these things at a very young age. Just trust me, it's going to come."
On Sunday, White posted the latest of her personal journey videos, which documented the process of removing her Satanic Baphomet tattoo. Her caption describes the demon's crimes as "[sic] Create and spread chaos,Abuse and torment his victims, CRIMES, Malefic, Conspiracy, Spiritual corruption, Brainwashing." It is unclear whether the goat-headed Baphomet has released Blac Chyna from his telepathic mind control yet, though I wish her all the best with that. "It gots to come off. I'm not about to have no mark of the beast," she said in the video.

The public reaction to the unraveling of White's Blac Chyna physical persona has been largely positive: Keke Palmer commented on one of her videos, "God bless you sister!!!!!!!!!!!!!!!!!!! God is ALWAYS READY!!! Isn't his GRACE overwhelming???" while another commenter wrote, "I love how honest you were when you said you was doing it because everybody was doing it…you realized your mistake and you owed it #growth." And indeed, it is refreshing to see someone once plumped full of fillers begin to return to their natural physical appearance, or at least express a yearning to live in the body they were given.
Still, the message of returning to a smaller body comes amidst an Ozempic craze, the glorification of "heroin chic" bodies, and disordered eating. And multiple generations of girls have already grown up with an onslaught of messaging that modifying and surgically altering their bodies is the best way to achieve status, likability, or a partner. Only time will tell if other public figures—like Courteney Cox, who said this month her biggest beauty regret was getting fillers—will follow in White's lead, and how that might impact young people and their own shifting views of their bodies.

"Even when I would get my makeup done, they would contour so it would be even more dramatic—so I be looking like Jigsaw," White said. "I'm ready to get back to Angela. Like, Blac Chyna's Blac Chyna, you know what I mean? I feel like I've outgrown that, and it's time for a change."