There's no boner-killer quite so potent as a visit from "Aunt Period Blood," IF YOU KNOW WHO I MEAN. Isn't that right, Billy-Bob Thornton? Oh...no!?!? You like having sex with hot ladies even if their vagina is doing something totally natural that most vaginas do 20% of the time? Do tell!
Billy Bob Thornton isn't afraid to put a little ketchup on his Farmer John ... telling TMZ, there's NO time of the month he'll shy away from sex.

BBT was in Beverly Hills this weekend ... when he stopped for an EPIC 80 second conversation with our photog.

First topic — tattoos (according to Billy, men who get them on their lower back are "stupid").

Then came the sex talk — when we asked, ever so eloquently, if Billy Bob ... um ... well, if he stays out of the water when it's shark week.
Hey, uh, maybe period-sex wouldn't be so scary for dudes if we didn't talk about it like it's literally as scary as putting your penis into a shark. Just a thought. Up top, Billy-Bob. [TMZ]
---
Everyone wants to know how Harry Styles feels about Taylor Swift, and Harry Styles is like, "Geroff!" Because British.
The One Direction heartthrob has finally broken his silence about his split from the country superstar, telling Capital FM, a UK radio station, that he's doing "OK" since the couple called it quits in early January. "Yeah, I'm good," he says.

But was the 19-year-old British sensation also feeling "OK" about Swift's possible diss towards him during her performance at the Grammys, during which she adopted a British accent?

..."She's a great performer. She always performs great and she's always good on the stage," Styles says. "She's done it for a long time. She knows what she's doing on stage. It was just another good Taylor Swift performance. It was good."
G/O Media may get a commission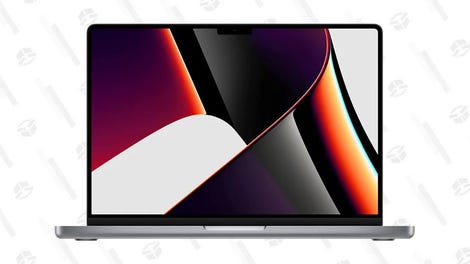 Save $300
2021 14" 1TB MacBook Pro
I don't...I got nothin'. [E!]
---
Hugh Jackman says he turned down the role of James Bond because he didn't want to become a shriveled husk of a man like Daniel Craig:
"I thought it would box me in too much," Jackman explained to the publication.

He added: "My natural instinct is to keep as many doors open as possible."

Jackman previously said in December that he has changed his attitude towards Bond in recent years and would now be open to playing the spy.

"I will just wait. The thing about Daniel [Craig] is that he's, what, 62 now, isn't he? He's falling apart at the seams," Jackman teased. "So I just keep telling him, 'I'm ready, whenever you want to let him go'. The good thing is I also have a British passport."
Hugh Jackman! Half man, half Jack, ALL CHARMING ME TO DEATH. [DigitalSpy]
---