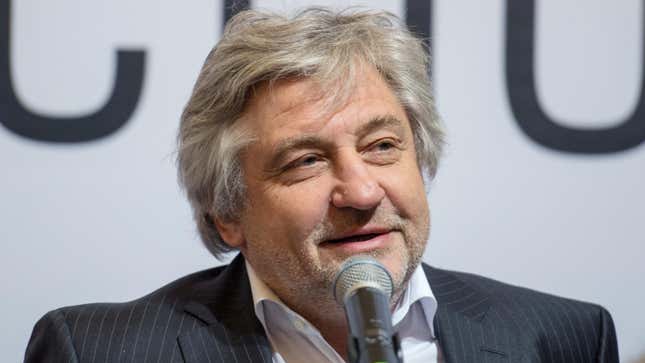 Leon Black, a billionaire financier, is accused in a new lawsuit of brutally beating and raping a 16-year-old girl with mosaic down syndrome, a rare genetic disorder, at Jeffrey Epstein's estate in 2002.
The Miami Herald—which famously re-opened the probe of Epstein's sexual abuse in 2018—reported on Tuesday that a Jane Doe lawsuit had been filed in Manhattan federal court by an unnamed woman in her late 30s. Doe claims Epstein introduced Black to her at the former's Manhattan mansion when she was a teenage girl. Doe details in the suit that she was already being abused by Epstein and Ghislaine Maxwell at the time of the meeting, and was instructed to give Black—a "special friend," she recalls Epstein calling him—a "massage."
On that occasion, Black, whom Doe describes in the suit as looking like an "ogre" with a "bulbous nose," allegedly threw her onto the massage table, put his hand over her mouth and yelled obscenities at her when she tried to scream. She claims Black then raped her until she bled, and when she tried to fight back, he laughed and threw her on the floor.
The woman recalls that she approached Epstein in tears following the alleged attack and asked him to take her to the hospital; instead, he told her Maxwell would take care of her.
Black denies all of this. In a statement to the Herald, his spokesperson called the lawsuit "totally made up, entirely uncorroborated." And it's only the latest of Black's recent legal dealings: Earlier this week, he agreed to pay the U.S. Virgin Islands $62 million in a settlement to clear his name in any dealings with Epstein.
But Jane Doe's lawsuit isn't lacking in details and context. She claims she had been recruited to Epstein's trafficking ring by a cheerleading coach (identified by the pseudonym "Elizabeth") whom she trusted. She says Elizabeth would accompany her to affluent parties and Epstein's estates, where she was then abused by other men—including Epstein, himself.
The lawsuit claims that before the alleged rape by Black, Maxwell and Epstein had been instructed her—again, a teenager with the development of a 12-year-old—on how to sexually arouse Epstein and awarded her "happy claps" when he was satisfied. Eventually, she says she was "shipped out" to Palm Beach and the U.S. Virgin Islands and missed bulk of her junior year of high school.
Doe's lawyer said she's bringing the case now, so many years later, because New York State's statute of limitations has recently changed to allow sexual violence victims to pursue legal action on decades-old claims.