Daniel Holtzclaw is serving 263 years in prison for the serial rapes he committed against black women as an Oklahoma City police officer. Because the devil always needs more advocates, conservative media outlet CRTV has put up a billboard blocks from where many of the attacks were reported promoting their new "investigation" into Holtzclaw's case, which reads, "What if he didn't do it?"
Ana Gasteyer Satirizes the Girl Boss in 'American Auto'
The billboard is "sparking controversy" as OKC Fox puts it. Oklahoma City Artists For Justice, a group supporting Holtzclaw's victims, calls it "terroristic imagery and messaging."
The billboard is an effort to publicize an "investigation" by right-wing talking head Michelle Malkin, airing in December (when the new digital network launches), in which she'll argue that Holtzclaw is innocent. There could not possibly be a less surprising position for Michelle Malkin to take.
Holtzclaw is, from behind bars, still insisting on his own innocence ("I will not feel remorse for something I didn't do. I am not guilty for any these crimes.") He was brought to trial on allegations that he raped 13 women, and convicted of charges against eight of them. A civil lawsuit filed in March by some of his victims alleges that the Oklahoma City Police Department allowed Hotzclaw to remain on duty for weeks after the first sexual assault complaint against him was reported, and says he was able to attack seven women before he was finally suspended.
G/O Media may get a commission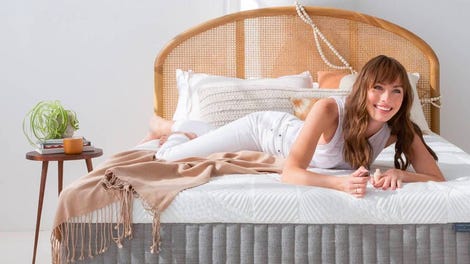 Sleep Sale
Sleep Sale - Brentwood Home
The Malkin piece was produced with the enthusiastic participation of Holtzclaw's sister Jenny, who insists he's been wrongfully convicted.
Judging by the preview and from Jenny Holtzclaw's Facebook posts, the main "authority" in their version of events is Brian Bates, a private investigator working for Holtzclaw's defense team. He told Fox no one has a right to be upset by the billboard: "If the billboard said, 'Daniel Holtzclaw is innocent, Daniel Holtzclaw's accusers are liars,' I think people would have a right to be a little outraged." Only a little, though.
Bates maintains that Holtzclaw may be exonerated, claiming there is DNA evidence that will be used in an appeal: "Thousands of people have been convicted of crimes and later exonerated, and Daniel may be one of these people. That's yet to be seen."
Holtzclaw previously suggested to ABC that all the women he raped are just saying that for money.