A woman has filed a lawsuit against comedian Bill Cosby, alleging sexual battery and infliction of emotional distress for an incident that occurred decades ago, when she was just 15 years old.
The lawsuit states Judith Huth, now 55, and a 16-year-old friend met Cosby at an event where he asked them to join him at a tennis club the following week. The lawsuit states Cosby told Huth and her friend to say they were 19 if anyone asked their ages. NBC reports the lawsuit alleges Cosby made teenagers drink alcohol as part of a game, then told them he had a surprise for them:
According to the complaint, Judy Huth and a friend, who was 16 at the time, met Cosby at an outdoor film set at Lacy Park in Los Angeles County in 1974 and accepted an invitation to socialize with him at a tennis club the following week. When they got together, the lawsuit alleges, they played billiards and Cosby served them alcoholic beverages.

"Under the terms of Cosby's game, plaintiff was required to consume a beer every time Cosby won a game," the suit alleges. After the two girls consumed "multiple alcoholic beverages," Cosby allegedly told them he had a surprise for them "and led them to another house which turned out to be the Playboy Mansion."
According to the lawsuit, what followed left Huth scarred, both physically and emotionally. "When Plaintiff emerged from the bathroom, she found COSBY sitting on the bed," the lawsuit sates. "He asked her to sit beside him. He then proceeded to sexually molest her by attempting to put his hand down her pants, and then taking her hand in his hand and performing a sex act on himself without her consent."
She "suffered damages that are substantial and continuing," the lawsuit states. Via USA Today:
The woman claims she suffered severe emotional distress and that she discovered its impact on her within the past three years, which allows her to file the lawsuit under California law.
G/O Media may get a commission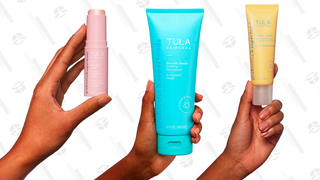 NBC reports Cosby's lawyer had no comment and a representative for Playboy did not respond to their request.
Image via Getty.