None other than Bill Clinton is criticizing the Berniebro phenomenon, saying at an event in New Hampshire this weekend that Sanders supporters subject his wife's supporters online to sexist and "profane" attacks. Meanwhile, Kathleen Willey, a woman who in 1998 accused Bill Clinton of groping her, has reportedly signed on to campaign against Hillary.
In recent weeks, the Democratic primary has become a circular, bitter, and guaranteed endless argument about sexism, who's the more feminist candidate, and whether young women tend to support Bernie Sanders in larger numbers, as Gloria Steinem posited, because "the boys" do. (She's since apologized on Facebook, claiming a case of "talk-show Interruptus.")

Bill Clinton weighed in on Sunday, telling a crowd in Milford, New Hampshire that Bernie supporters can be obnoxious: "People who have gone online to defend Hillary and explain – just explain why they supported her – have been subject to attacks that are literally too profane, often—not to mention sexist—to repeat," he said, according to The Hill.
Bill also reportedly hammered Sanders for dishonesty, telling the crowd, "When you're making a revolution, you can't be too careful with facts."
The same day, Sanders appeared on CNN and also addressed Berniebros: "We don't want that crap... Anybody who's supporting me and doing sexist things, we don't want that."
G/O Media may get a commission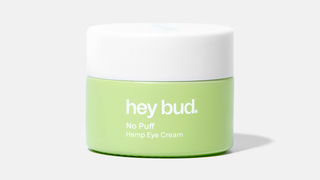 15% off
Hey Bud - No Puff Hemp Eye Cream
That'll surely put a stop to it.
Meanwhile, Kathleen Willey, who says Bill Clinton groped her in the White House in 1993, told Reuters she has signed on to campaign against Hillary. Willey said she has agreed to work with a group run by Republican strategist, Trump supporter, and part-time Twitter troll Roger Stone Jr.. The group, Reuters reports, was originally named "Women Against Hillary" before giving itself a much more trollish name in January; it's now the Rape Accountability Project for Education PAC, or RAPE PAC.
The group will become active if Clinton wins the Democratic nomination, both Stone and Willey told Reuters.
"This gives me more of an opportunity to get this message out to young voters who weren't even born or don't even remember what happened and to the women who have suffered," Willey said. In July, Willey launched a website called "A Scandal a Day" which called Hillary Clinton "the most corrupt politician that this nation has ever seen, man or woman."
---
Contact the author at anna.merlan@jezebel.com.

Public PGP key
PGP fingerprint: 67B5 5767 9D6F 652E 8EFD 76F5 3CF0 DAF2 79E5 1FB6
The Clintons at a campaign event in Nashua, New Hampshire, Sunday, February 2, 2016. Photo via AP Images