In a wild and inadvertently revealing interview, yoga guru Bikram Choudhury responded to the rape and sexual abuse allegations that have been made against him by calling his accusers "trash" and claiming people have killed themselves in despair when he wouldn't have sex with them. He also told journalist Andrea Kremer of HBO's Real Sports that people want to pay $1 million for "a drop" of his semen.

Choudhury, 70, has been accused of rape and sexual abuse by multiple women who have participated in teacher trainings for his famed style of hot yoga; six have sued him, two have settled and four of those cases are ongoing. But he has never been criminally charged: the Los Angeles County District Attorney's office declined to prosecute him in 2013 after reviewing allegations from four women. In January of this year he was ordered to pay $6.4 million to his former legal advisor Minakshi Jafa-Bodden in a civil suit. Jafa-Bodden said Choudhury sexually harassed her while she was employed by him and fired her after she began investigating allegations that he raped a student.
Both Choudhury and three of his accusers were interviewed by Real Sports in a segment that aired earlier this week and was made available online Friday. Kremer visited Choudhury's palatial home in India, where he's amassed a collection of luxury cars, and attended a teacher training there, where cameras captured him calling a student "fat ass" and telling the class to eat less. Bikram merrily claimed to Kremer that he never eats or sleeps and has cured "Parkinson's, AIDS, and cancer" with his style of yoga.
She also spoke to three of the women accusing him of rape and sexual abuse: Jill Lawler, Sarah Baughn, and Maggie Genthner. All three women have accused Choudhury of raping or abusing them after months of grooming in the teacher training.
"I can't do yoga anymore," Lawler told Kermer. "It makes me feel sick."
"He's a sexual predator," Genthner told her. She is one of the people who has confidentially settled her suit against Bikram. But she indicated that she believes there are more victims: "There are women who are frightened. Women who are still in his community who've moved up in rank." She and Lawler were both enlisted to serve as his personal "attendants," roles in which they say they were forced to wait on him hand and foot and eventually raped by him multiple times, even as they wept and begged him to stop, in what they say were clearly and obviously non-consensual incidents.
Choudhury's response to those allegations is illuminating. He denied Genthner's allegations by telling Kremer he "wouldn't even piss on her face" and calling her a "psychopath." At one point, he asked Kremer, "Why do I have to harass women? People pay $1 million for one drop of my sperm. I can make million dollar a day. Every drop. You are that idiot or dumb to believe this trash."
G/O Media may get a commission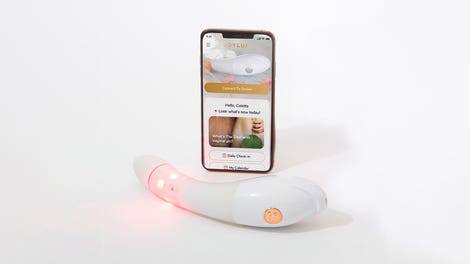 $50 Off
Joylux vFit Gold Device
"The women are the trash?" Kremer asked.
"Yeah," Choudhury affirmed. "I pick them from the trash and give them life."
Choudhury dismissed the allegations as "lies," before detailing all the women who've supposed killed themselves when deprived of his dick. Here's a transcript of the most inflammatory part of the interview, via Sporting News:
Kremer: Sarah Baughn, Jill Lawler, Maggie Genthner, they felt sexually violated by you.

Choudhury: Okay. Lie, lie, and lie. I don't need to do that —

Kremer: Rape or sexually assault?

Choudhury: Sexually assault. If I need women I can make a line. The most beautiful, famous, rich women in the world. If I have to sleep with women, then I have to sleep, you know, 5,000 girls every day.

Kremer: Five thousand women a day want to sleep with you?

Choudhury: Yeah. And — they commit suicide. Four of them.

Kremer: You're saying that four different women —

Choudhury: Four different women.

Kremer: Each killed themself because you wouldn't have sex with them.

Choudhury: Yeah, all died. Why I have to harass women? People spend $1 million for one drop of my sperm. I can make million dollars a day every drop. You are that idiot or dumb to believe those trash?"

Kremer: The women are the trash?

Choudhury: Yeah. I pick them from trash and give them life."

Kremer: Did you sexually assault Sarah Baughn or ...

Choudhury: Of course not. I will never even piss on her face with — nuts like that she is. She is psychopath.
Choudhury ended the interview abruptly soon after, retreating upstairs in his home as he told Kremer she was cut from the same cloth as his accusers.
"I don't want to discuss that shit anymore," he told her before instructing her and the camera crew to leave.
Kremer tells the Sporting News that the interview was eye-opening: "It was quite enlightening sitting across from him, hearing what he had to say and maintaining professional decorum," she told the site. "He's very serious about the things that he says. He really believes these things."
The interview will inevitably make a reappearance in a court of law, as part of the ongoing suits against Choudhury, though he hasn't been seen in the United States since January. In a press release announcing the interview, HBO suggested he is remaining there to avoid civil liability in the ongoing lawsuits.