Donald Trump (barf) is in my home state of Texas tonight to stump for "Beautiful Ted" Cruz (now I'm barfing some more) and apparently Alex Jones (oh my God I'm continuing to barf) is there too.
Here's all the shit we couldn't cover today:
"You're going to find MS-13, you're going to find Middle Eastern, you're going to find everything," Donald Trump responded when asked about his wildly racist tweet in which he asserted that there were "criminals and unknown Middle Easterners" in the caravan of Central American asylum seekers currently making their way through Mexico. [The Hill]
People camped out at an early voting site in Houston on Monday morning. [Houston Chronicle]
Michael Avenatti, scammer... [The Daily Beast]
...who now has to pay his former colleague millions of dollars. [The Hill]
If you enjoy watching bad people utterly debase themselves, as I do, please enjoy this video of Anthony "The Mooch" Scaramucci do some "interpretive" "dancing." [New York Post]
Uruguay has passed a law guaranteeing expansive rights to the country's transgender citizens. [Associated Press]
Surveillance footage obtained by CNN shows a body double dressed in Jamal Khashoggi's clothing, a fake beard, and glasses leaving the Saudi consulate in Istanbul just hours after Khashoggi was seen entering the building. "Khashoggi's clothes were probably still warm when Madani put them on," a Turkish official said. [CNN]
Shut up, Marco.
G/O Media may get a commission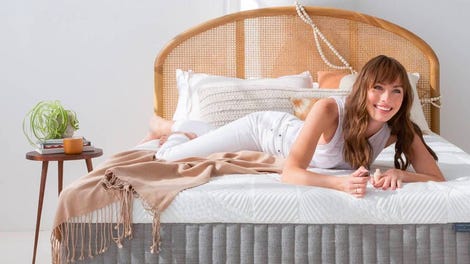 Sleep Sale
Sleep Sale - Brentwood Home
"Well, Van, my dad bought my way into Harvard and then I married into a family of clowns so they think I'm smart."
Here are some tweets the president was allowed to publish:
This has been Barf Bag.