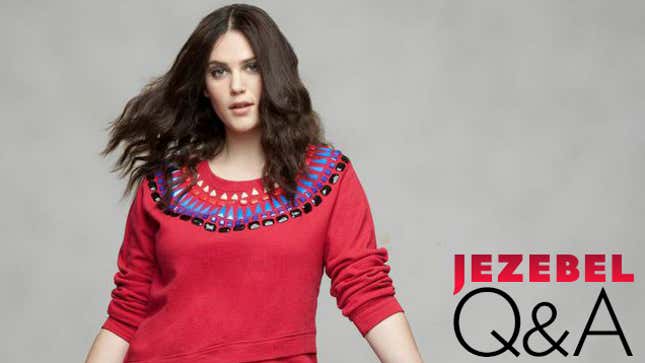 The plus-size business is taking off—brands are launching, models are breaking out, and people are finally paying attention. This is the first in a series of interviews with players in the industry; let us know if there's anybody you want to hear from!
Back in 2011, before the plus-size clothing boom really got going, The Limited announced Eloquii, its very own offering for sizes 14 and up. Launched with much fanfare and greeted with enthusiasm, the line was nonetheless shuttered a year and a half later.
Now, the history of clothing for the rest of us is littered with corporate failures and flameouts. Eloquii is different, because it came charging back. A private investor named John Auerbach bought the brand, kept creative designer Jodi Arnold and hired retail vet Mariah Chase as CEO. Chase and Arnold relaunched the business as a fashion-forward ecommerce brand with trendier offerings and lightning-fast turnaround times—finally, a would-be Zara for plus-size women. Wonder of wonders! Sequins, crop tops, dark florals, body-con party dresses, jumpsuits; if there's a trend you wanted to try but couldn't find bigger than a size 8, they'll hook you up. And for the more conservative dressers, they've got a broad array of midi skirts, blouses and dress pants, too.
Since hitting the market in February 2014, they've pushed their way into Nordstrom. Melissa McCarthy has popped up wearing their pieces. They've expanded to size 26. I talked to Arnold and Chase about how they did it.
Tell me a bit about bringing the brand back. People are very used to plus-size lines popping up, you moderate your expectations because you've seen so many failures, and it's really rare to see one not just brought back, but return looking more fashion-forward.
Jodi: When The Limited made the decision to shut the brand in 2012, I had at that time gotten a LinkedIn invite from someone who is our investor, looking for an opportunity to invest in a plus-size brand, and so started talking to him at the same time The Limited closed Eloquii (as we call it) 1.0. Then I started talking to the team about the opportunity that he presented to bring the line back.
So over the summer of 2013, we had been given a settlement package from The Limited, so we started discussing where we thought the opportunity was, what we would do differently, the lessons we learned and just crafting a plan over those next few months to relaunch the brand. We started kind of working on it really solidly in September of 2013, Mariah came onboard in October and we launched in February.
That's a really quick turnaround time—or is it?
Jodi: That's a really quick turnaround. That's part of our model, is to be fast-fashion. Most places, they go through the whole exercise of doing samples and then the buyer looks at the samples and decides whether to buy them. But in our case we're sketching them and then the buyer is buying them or the merchant is buying it from the sketches that are going right into production. You're probably cutting five months out of the cycle. We're on a five and a half, six month turn now.
That's where we also felt part of the opportunity was. She [meaning the Eloquii customer] is not given fashion in a fast way in good quality. We always felt like if we were to do it like everyone else does it, she doesn't get it everywhere—the happy opportunity to buy from somewhere like Zara or H&M. We felt like that was part of the opportunity.
I know it's a fast-fashion approach, but when I'm shopping I'm looking for something that'll last longer. And the quality does seem a bit higher—while I associate fast-fashion with something like Forever21, where it disintegrates when you put it in the washing machine once.
Mariah: That's actually a really interesting observation, and you're right. We drop newness at least every two weeks on the site, and that's kind of a business rule, that's the way that we architected the business, and that's what you might see from what you would call a fast-fashion retailer. But we also believe and have heard from our customers that oftentimes other retailers they might shop at, the quality is sometimes lacking. And I don't think any retailer steps out to give their customer bad quality pieces, right? As a retailer, that's never what you want to do. But I think that Jodi and her team have worked really hard and done an incredible job not only to bring newness to the table on a fast and ongoing basis, but to have the quality be there. so it's not something that's disposable. Because many of our customers, as much as they are looking for trend pieces to add to their wardrobe, they're also looking for just really great fashion staples, like a great pair of pants, that they can wear over and over and over again. Those shouldn't wear out after two wears.
How's the company different the second time around? How has the approach changed?
Jodi: I think that our biggest miss in 1.0 was not connecting to the customer. You didn't talk to us. We didn't hear from you. We didn't even know you were there. And so now we really want her to know that we're listening to her. As soon as we read reviews and we hear comments about things, we're taking action right away to figure out what it is that she needs and wants. So, from an overall ethos, that's something different.
Mariah: We're here to serve the customer. And I think that we'll really do almost anything she asks us us to do—but we're always going to do it through our lens, through our viewpoint. For example, as soon as we came back, I think literally the first or second day we launched, we started to get a flood of inquiries about suiting. "Where are suits? We need suits." And it had always been part of our plan and we were like, Okay, they've got to become priority number one. But we did them in our specific way—they're tailored, they're sharp, it's shot a specific way, the look is a certain way.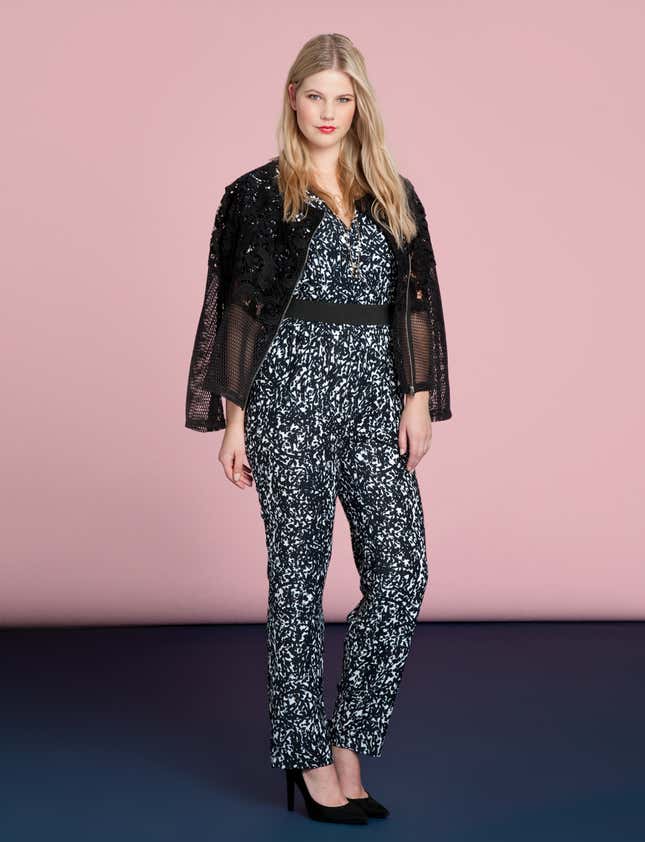 So that's the baseline of where we operate from—what does this customer want? We try to have direct contact with the customer at least on a weekly basis. A bunch of us are talking to the customer and getting on the phone with her and that is the one thing that's a little tricky about e-commerce, is you don't actually see your customer and you don't have those face-to-face interactions, so we're trying to talk to her live.
How much influence does that feedback have over the styles themselves?
Jodi: Every Monday we have a sales meeting where we're looking at what's selling and what's not selling, and I think it's just gauging—you know, oftentimes maybe the customer isn't used to seeing herself in some of these things. Is she going to get used to seeing this now that she's offered it finally? If maybe something is not selling as quickly as we'd hoped, a fashion item, it doesn't mean we stop trying to do it. I think we're pushing her as this whole market is changing and this customer is changing and hopefully feeling better about dressing more fashionably and finding we're giving the style advice that she can feel more confident doing it.
So yes, we're listening to her, but still driving it in the way any fashion company would be driven in terms of whether you're chasing a trend, whether the trend is over, whether you keep pushing a trend that maybe is not quite working. It's not any different for plus-size. It's probably just a little harder because she might not be used to trying certain styles that she actually can wear, she just needs to give it a try. And I hope we're showing her how she can do it.
Give her what she doesn't know she wants yet.
Mariah: One thing that's interesting—I don't know if you've seen on our website, the Instagram hashtag #XOQ program, where people can upload images of themselves and just tag it #XOQ and we pull them onto the site. What's super interesting is we did a focus group with some customers last week, and they're all starting to say that they look at XOQ for styling ideas. So they look at our email for styling and the site for styling. But the customers are looking to each other for styling ideas, which I think is so cool.
For a long time there was this conventional wisdom that plus-size clothing had to be basic in this very specific way, like the old asymmetrical or ruffled black cocktail dress. But Eloquii does not abide by those rules, and Eloquii 2.0 is even more avant garde. Could you speak a little bit about why you took that approach and why you felt confident from a business perspective taking that approach?
Jodi: When we were under The Limited umbrella, we were quite tied to what they were doing as a brand, because we were their sister brand. so it's not just their name and their color palettes, [it's] the plant they were using and their fabrications.
What we did start noticing is that when we would design on our own those things were going first. You have all kinds, all styles, all ages to address, but we just felt strongly as a brand we want to have a point of view. We want to make a statement that she can wear these clothes, we want to show her how she can wear them, and then we still will offer all those other things. If you're not quite ready or it's just not you to try something like a crop top, then we also have other things for you and those too will come maybe with a twist.
I think for all of us on the executive team, it's hard to even envision going back into straight sizes. All of us come from a straight-size background, all of us sat in a room, like, I can't possibly do straight sizes again because there's just no opportunity to do anything different and there's no opportunity to make a difference. It was just like a lightbulb, This has to be done.
Coming from straight sizes, we don't have much history or baggage of what plus-size women can and cannot wear. This is fashion. We're running a fashion company; it just happens to be sizes 14 to 24 or above.
Who do you envision as the Eloquii customer? With something like J. Crew or Tory Burch, they've got this very specific stereotypical customer in mind. But the plus-size market is so large and there's so much diversity, the market is defined by body size as opposed to other, more-specific markers. Is there some way you've narrowed it down? Are you envisioning a specific type of woman as you're designing?
Mariah: This is a conversation we have a lot internally. It's 65 percent of women in America. We did a focus group last week, and I think the only real commonality we saw from this group, aside from the fact they really liked us, is that we held it after work and they all came from jobs. They were all working women, in creative fields, lawyers, bankers, merchants.
But right now, we see pretty clearly two different customer segments within our overall buyer audience. One is more fashion and trend driven. She's buying crop tops; the dark florals were a really big deal for fall. Then we see a customer who maybe has a job where she has to dress a certain way, she has to maintain a certain look. She's maybe a little bit more conservative and classic. It's been pretty interesting to watch those two groups develop. And obviously there's cross-over. But that is one of the challenge when designing or talking to this audience—there's many people. We just try to find a lane and swim in it. We are not going to be everything to everyone.
Are there items that've sold particularly well for you guys, and are they matching your expectations?
Jodi: Our bestselling item so far has been the midi skirt, which we've done in multiple colors and we're now doing it with a laser cut finish and in satin and sequins. That's been a combination of just being really lucky that the overall trend in fashion is more toward the midi skirt and that's a great silhouette for a lot of women in this category.
Mariah: One thing that did jump out to us is we have a kicking pants business. And I think some people might say, "Oh, well, plus customers aren't going to buy pants because the fit's tricky." We have a pant that has surpassed our wildest expectations, and we're now doubling down on it.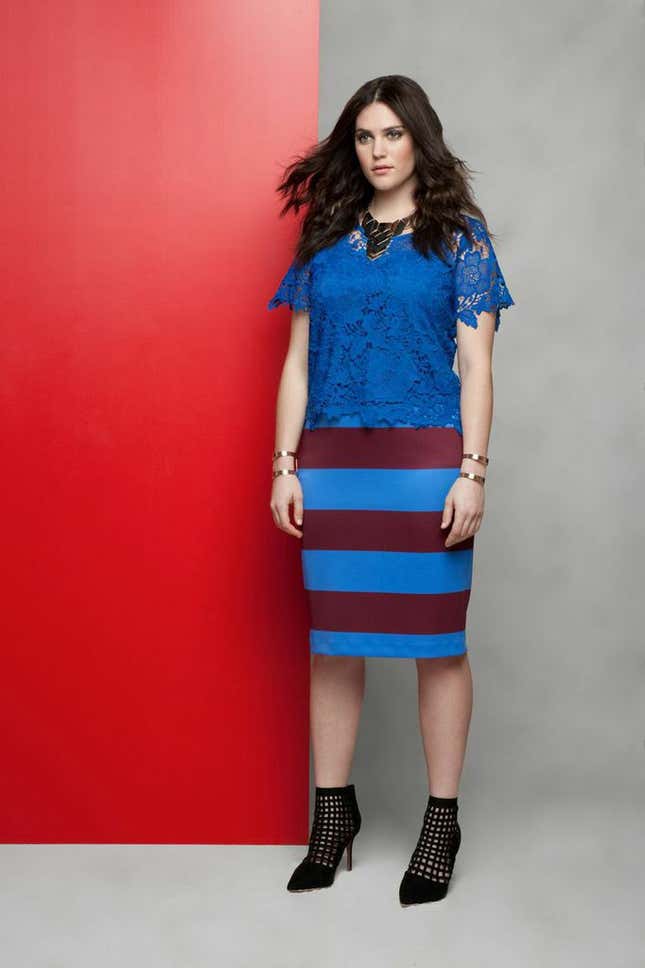 You mentioned the midi skirt—you guys almost broke my heart when one plaid skirt disappeared so fast, but you brought it back in several colors. How do you balance the fast fashion with not frustrating the customer?
Jodi: We hear from a lot of our customers that she's happy we're doing it this way, because normally she'll go to a function and there's three other women in the same Lane Bryant dress. We heard the other night at our focus group that they were so happy that everyone wasn't going to be wearing it, even to the point where they weren't telling people about us because they didn't want anyone to know and show up with the same dress on.
So it may be frustrating to some people, but we also guarantee that we're watching it. If goes away, we'll come back with another version of it—and probably a version that you'll like better. And there's so many choices—we don't even have the amount of choice we will eventually—so I think she'll be able to find something she's happy with.
Mariah: That was one of the wildest observations that came out of our focus group. We asked customers if they told other people about Eloquii and most of them were like, "No! We don't want other people knowing!" And we were like, "That's the wrong answer! Tell people about us!"
Photo courtesy Eloquii, illustration by Jim Cooke.