I'm pretty sure that the only thing on this earth that I love more than the best-friendship of Sirs Patrick Stewart and Ian McKellen is their GODDAMN BOWLER HATS. Clearly the pair has gotten wise to the public's love, because they keep feeding us amazing pics of themselves wining and dining and kicking it and gallivanting and it's so fucking adorable that BRB UGLY-CRYING ALL NIGHT.
Adding to the photo's amazingness is the fact that the besties are dressed in coordinating Christmas colors, Stewart in a red sweater and McKellen in a green sweater.

...Stewart and McKellen's bromance is nothing new. They've been joined at the hip for months while working together in two different plays in NYC.
Ana Gasteyer Satirizes the Girl Boss in 'American Auto'
This pic of Stewart and McKellen lounging on Kris Kringle's bowl-full-of-jelly is the only Christmas present I need this year. [Twitter] [E!]
---
ALSO, Sir Ian surprised fans at a Desolation of Smaug screening and everyone went fucking apeshit. And OF COURSE he talked about Patrick Stewart.
"I've seen this movie," he continued as the crowd laughed. "You're going to have a wonderful time. The dragon goes on a bit long, but my golly, looks fierce."

..."[Director] Peter Jackson believes this is the best of the five so far and the critics seem to agree with him. And I just want to let you know that when we were doing Lord of the Ringsall those years ago at the beginning of the century we didn't really know whether anyone was going to want to come and see it," he recalled. "And it happened that you and others enjoyed them. And so when we went back to do pick-ups for parts two and parts three ofLord of the Rings, it was as if we were making these films for people who really cared. And the same is true of The Hobbit."
G/O Media may get a commission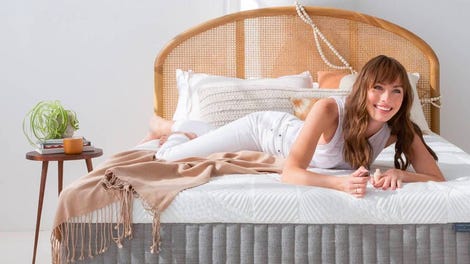 Sleep Sale
Sleep Sale - Brentwood Home
Please. Please will you come to my house for Christmas. We're having ham. [E!]
---
Shia LaBeouf might face legal repercussions for plagiarizing the work of Dan Clowes.
Clowes declined to comment directly, but according to his publisher, Fantographics' Eric Reynolds, Clowes "is exploring his legal options."

Reynolds said Wednesday he was "baffled" by the news of LaBeouf's project, which he and Clowes got wind of on Monday.

"LaBeouf changed the name of the main character, but he used the comic as a direct script and storyboard," Reynolds said. "Clowes has a real melodramatic voice that is very idiosyncratic and LaBeouf just used the dialogue word for word. There is no ambiguity. There is no way that anybody wrote this but Dan Clowes. It just defies any kind of logic or good sense. This was so blatant and inexcusable that it was as baffling as it was appalling."
Good. He should face some sort of consequences. Also, LaBeouf seems like he might be having some mental health issues right now? If that's the case, here's hoping he gets appropriate care. [Yahoo!]
---
After being bullied to lose weight, Christina Aguilera has now become "gaunt." Cool story, media. [Radar]
Nick and Vanessa and a baby went on vacation. [E!]
Sharon Needles and Alaska Thunderfuck broke up. [People]
Khloe Kardashian is upset by your BS. [DigitalSpy]
A new report finds that Paul Walker's car had no mechanical issues. [HuffPo]
Charlie Sheen has "laryngitis." [Radar]
Miley Cyrus says she sticks out her tongue because "I get embarrassed to take pictures." I find that endearing. [E!]
Pippa Middleton is NOT ENGAGED, so SHUT UP, says a source. [People]
Christina Aguilera was born on this day in 1980. Let us honor her (and also this weird fringey crop-top, which I still think about).