Panda. Panda. Panda. By this time in the summer, most of the seasonal hits are a foregone conclusion, so we can all bank our beach bods on hearing Desiigner, Drake, Rihanna and, unfortunately, "Toothbrush" fifty-eleven times before we have to pack away our bikinis.

But what about the sleeper hits that soundtrack our individual lives, not just the songs that unite us but those which elevate our chill seasonal vibes? The Jezebel staff and some of our colleagues at Gawker have compiled a definitive list of what we'll be bumping at every barbecue this summer, a playlist of songs ready to shift your mood and imbue you with a feeling of triumph.
Our picks aren't the most precise—last year, for instance, we fully omitted "Lean On," a mistake that was particularly egregious because that Major Lazer/Mø joint will likely soundtrack some of the most glorious moments of this summer, too. But the songs we have chosen are ours, and we believe in them, love them enough to play them when we're slightly boozy and about to exchange a kiss with our summer boos.
---
Flume f. Tove Lo, "Say It"
I included this track from Flume's latest album on a playlist dedicated to my butt, and I will include it again here, because in addition to getting me through some bleak moments on the stairmaster, it's the exact kind of pulsing, wistful, not-quite-dance-y jam I can see blaring out of a backyard barbecue in August. -Ellie Shechet
G/O Media may get a commission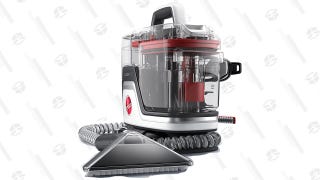 Save $10
Hoover CleanSlate Plus Carpet & Upholstery Cleaner
---
Miguel f. Kasey Musgraves, "Waves"
Three months ago, Kacey Musgraves and Miguel teased a video for their country-tinged joint remix of his song "Waves." At the time, I assumed it was being primed as a summer hit, but have since been proven wrong. The video never happened (I was told last week by Musgraves's publicist that there are "no plans" for its release), but the song—a chill and sexy roll in the sand that's as convertible-ready as any good summer song—still exists, and I'll be listening to it until the temperature starts dropping. -Bobby Finger
---
Kiss Daniel f. Sugaboy, "Napo"
I won't pretend to know too much about the Nigerian pop star Kiss Daniel. I was turned on to his debut album New Era by my friend David, and the entire thing is an ideal summer record that blends the pan-global polyrhythms and American-influenced vocals of contemporary Afropop with the elastic thump of the more traditional afrobeat—which is to say that it's a record that would appeal equally to Drake and Paul Simon. "Napo" is one of its more laconic songs—it has a swaying lilt that brings it closer to reggae than pretty much anything else on the album. It's meant for the slowest of wines, but it's the one that's been speaking to me lately as I, uh, sit on my couch on Sunday afternoons smoking a bowl and watching baseball. -Jordan Sargent
---
Calvin Harris f. Rihanna, "This Is What You Came For"
I am embarrassed and proud to admit that I was heavily involved in my college radio station (I was the president), and that those four years ended up being the alt music equivalent of a child actor's career—now that I'm grown up, I want nothing to do with inaccessible, acceptably hip noise. So much of the time, when I want to listen to music, I don't want to work. "This Is What You Came For" doesn't make me work. It's got a great Rihanna hook, satisfying dance beat from Calvin (no offense Taylor), and it makes me want to make out. If you looked up "summer anthem" in The Joy of Cooking, that would be the recipe. -Joanna Rothkopf
Pitbull f. Enrique Iglesias, "Messin Around"
This also has all the ingredients of a summer hit. Though it is objectively worse than my previous pick, it has two additional foolproof song ingredients: Pitbull, master of the club fuck song, and Enrique Iglesias, my nighttime husband. -Joanna Rothkopf
---
The Chainsmokers f. Daya, "Don't Let Me Down"
I love The Chainsmokers, honestly, but even more than that, I hate them: the lazy whip to their sound, the wall of all-access rage that's become their signature; the blank, throwaway Instagram femininity that colors their riffs and hooks—it's all so competent that it feels scornful, like they're hate-fucking the radio and always eliciting a yes.

Anyway, The Chainsmokers are particularly good for this Spotify Discover era of barely distinguishable feature vocalists, and "Don't Let Me Down," featuring the 17-year-old Daya, really, really slaps. It's a song for the thoughtlessness of summer, it'll casually shut you up. I know exactly when I'm going to be listening to this one—behind a beer pong game I'm losing, in a car with the night wind blowing my hair in my mouth, when it's too late in the night to talk. -Jia Tolentino
All Saints, "Chick Fit (KissySellOut Remix)"
I'm writing this in the vague hope that more people will listen to this song with me this summer, or, ideally, that someone (perhaps KissySellout himself… where are you) will get the All Saints stems and recreate the mix into something more current, or at least something HQ. Let's close the blog house circle all the way. -Jia Tolentino
---
Drake f. Rihanna, "Too Good"
My senses tell me Rihanna's "Work" is gonna carry us into the summer, even though it feels partially old for the summer anthem category. So as a companion, I'm feeling Drake's "Too Good" with Rihanna, one of the wannabe Caribbean chunes from his Views album. Rhythmically, it has the simple, light BBQ/beach bounce that almost overshadows the expected Drake complaint slash self-pep-talk raps about a woman who can't appreciate him. I'm hearing it and seeing cut-off shorts and glass particles in the Coney Island sand so I hope it plays outside of just my Spotify jams vicinity. -Clover Hope

---
Yuna, "Best Love"
A lot of singers have tried the nu-Sade thing; few have done it as seemingly naturally as Malaysian singer-songwriter. Her third album, Chapters (released last month on Verve), brims with slow jams that spotlight her still-not-chill soprano—like her sonic godmother Sade Adu, she conjures emotion with a deceptive coolness. The gem "Best Love" is about as up-tempo as Chapters gets—it's the "Hang on to Your Love" in Yuna's particular diamond life. Like an ass just out of a seat and hovering, "Best Love" is this close to dancey. With a midtempo sway that recalls Aaliyah's "Rock the Boat," and accents that range from self-consciously sophisticated (those swooping violins) to down-to-earth (those ratchet snares), "Best Love" is like fresh air to a mostly laconic album—and to contemporary R&B as a whole. -Rich Juzwiak
Usher, "Crash"
This song was released a few hours ago and I'm still high on it. While bumping its ass to a sexy, sub-house BPM of 104, "Crash" sits at the humid intersection of Kygo-style tropical house and the futuristic adult contemporary (call it nu-AC) tendencies that are creeping through R&B at the moment. It's right out of Majid Jordan's playbook with the key difference being that Usher has the capacity to sing the shit out of a track. And so he does. His limber voice bends all over time from the future ("If it don't last forever, I wanna let you know") to the future past ("We really had something special/ It's hard tryin' to let it go") to the present ("I'm just being honest / I'm still in the moment"). Spotlit is his gorgeous falsetto much as it was in "Climax," with which "Crash" shares a sort of spot-the-hook sensibility—it seems to build from one pre-chorus to the next, teetering on the brink of a hook until you realize the whole damn thing is a hook.
Usher is a gift, appreciate him. -Rich Juzwiak
---
YG f. Drake & Kamaiyah, "Why You Always Hatin"
Play this at the next BBQ you host for all of your haters. -Emma Carmichael
---
Roy Woods, "Gwan Big Up Urself"
This is a late drop for song of the summer, but it has all the markings of the perfect warm weather jam: the feeling that the melody is floating along on a cloud of haze, the patois, the NSFW description of some pretty chill sex hidden in some smooth operator singing. Woods hasn't dropped his new full album Waking At Dawn yet, and he might be way too OVO for those who don't stick with Drake even when he's putting out weak shit, but this track is ripe for remixing/blasting out of cars that insist on driving around the block all afternoon. -Kate Dries
---
Ryan Adams, "Wildest Dreams"
I'm so fucking embarrassed by this selection and the way it's wormed itself into my head and earholes. This is of course a Ryan Adams cover of a Taylor Swift jam. The whole concept is so damn corny. And yet, Shit Is Going On right now for me, and I forecast it will do so for the remainder of the summer. This cover sounds like where my head is likely to be at: It sounds like waiting for a late, empty train back from Coney Island, a chilly ocean breeze sweeping down as the sun disappears. Ugh. I hate how much I love this stupid song. -Anna Merlan
---
Kaytranada f. Shay Lia, "Leave Me Alone"
If you're not familiar with Kaytranada, you are not living your life right. On an album full of bangers, this stands out the most because every time I listen to "Leave Me Alone," I imagine myself sitting by the pool in a bikini, holding a glass of rosé and singing the words to my boyfriend Blake Griffin who will ignore the lyrics and not leave me alone. If that's not a summer fantasy you can get behind, then you don't even deserve the season. Also, that beat though. -Kara Brown
---
Kelela f. GoldLink, "Rewind (Louie Lastic Remix)"
Kelela's original version stretched out, leopard like, over a set of classic Miami bass beats, hits that always sound like summer for their long legacy and breezy emotional drive. (For more of that, give this Abra joint a try.) But Louie Lastic recognizes her genre versatility both as a singer and a stylist, so he gamely cuts her vocals on an upbeat synth gleam that invokes the best attitude of classic UK garage, a tempo Goldlink can get down with. Going to rewind-selectah this all over the next three months. -Julianne Escobedo Shepherd
Quentin Miller, "Potential"
Does it seem hatery that I'm closing this out with Drake's (alleged) ghostwriter? It shouldn't: I first heard this song a couple months ago bumping out a car in my neighborhood, the number one sign of a relative summer hit. I was immediately drawn in to Miller's slackjawed delivery and the second thought in the chorus— "I got money, I ain't stressin; wait."—that indicates what's going on beneath the surface; I followed that car a block out of my way so I could hear enough lyrics to sufficiently Google this track. The video is an added draw, his lowkey, chilled out charm is totally infectious and the sly smile with which he delivers it suggests he knows he's talented, but is a little bemused about it all. "I ain't stressin" as a philosophy is what summer's all about, no? -Julianne Escobedo Shepherd
---
Image via Getty