As a music writer for about 10 years now, I've met a lot of female artists who had no idea who they really were. They were young and their personas were the outcome of great outsourcing—their clothing, photos, lyrics and overall direction never their decision to make. In pursuing their passion for singing, they became vessels.
This much was (is) clear to anyone who interviews them, listens to them or observes them in photo shoots. So in many ways, Beyond the Lights is a familiar story. The narrative of female pop stars being stripped of their power and voice is treaded territory. But seeing it played out on screen, while also knowing some of the people who create those same stereotypes and facades, makes for a visceral experience. (MINOR PLOT SPOILERS AHEAD)
Writer and director Gina Prince-Bythewood does a great job exposing a lot of ugly layers. In painting a picture of a woman who's essentially a blank canvas, Beyond the Lights tackles the power dynamics that come with being a woman in the music industry. In this case, the product is Noni, a girl from the London suburb of Brixton, played by Gugu Mbatha-Raw. She's a voyeur in her own narrative. What needs protecting is not her voice or her body, but the sum of all those parts: the product.
From the beginning, it's clear that other people are in control of Noni's image, whether it's her management team, her record label or her fake boyfriend, a rapper. The cycle of codependence starts at home with her momager Macy Jean (Minnie Driver), who operates under the guise of good intentions—she's a single mother who wants a better life for her daughter. The movie opens with Macy rushing to get a 10-year-old Noni's hair just right for a talent show. (The reference to white mothers not knowing what to do with their mixed child's hair is not lost.)
Noni excels in her performance of Nina Simone's "Blackbird," but when she comes in second, Macy forces her to toss the trophy and think bigger. From approving Noni's outfits to shadowing her on photo shoots, Macy is the ever-present conduit who's improved her daughter's social status at a cost.
The most compelling power dynamic is the one between Noni and Kaz (Nate Parker and his amazing body), whose scenes together had me reminiscing about Prince-Bythewood's coming-of-age classic Love & Basketball. After Kaz saves Noni from a suicide attempt on a hotel balcony, their relationship naturally grows closer. He serves as a superman, but he's also a mirror who makes her feel less powerless. When she tells him about an old box of poems she's got stashed, Kaz encourages her to turn them into songs. He supports her independence.
G/O Media may get a commission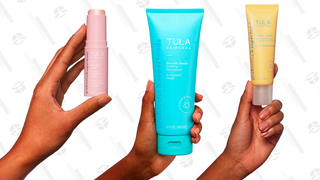 This is in stark contrast to the other men in her life who would rather use her as a prop. That includes Kid Culprit (Machine Gun Kelly), the rapper she's only dating for publicity. There's one particular public power struggle between them that will make you uncomfortable—it gets physical, and it becomes a turning point for Noni.
Part of that discomfort is that this story isn't completely fiction. Much of it brings to mind real world headlines—notably, Beyoncé's career battle with her father/manager Mathew; Rihanna's and Miley's independent streaks; and Kesha's sexual abuse claims against producer Dr. Luke. (In a lighter moment, Macy challenges a record label exec who's also a former artist. Hello, Jay Z.)
Another thing I loved about this film was how Gina Prince-Bythewood represents Noni's arc through the physical device of voice. The beginning features very little of her talking. It's all about her expressions and her constructed life as a marionette. As it goes on—the storyline is predictable in this way, but no less engrossing—Noni's increasingly able to articulate what she wants.
When I interviewed Gugu Mbatha-Raw last year for her role in the slavery movie, Belle, she spoke about Beyond the Lights, which was titled Blackbird at the time. This quote didn't make the final story:
While we were shooting it, the whole Miley Cyrus phenomenon was kicking off, and I think it's very relevant. It looks at the psychological implications of fame and the underbelly of the music industry in terms of the cost to young girls who are groomed to be very sexualized icons and the emotional cost to their spirit.

It's about this character finding her own true voice, as opposed to playing a character that I guess has been predestined for her because of the industry. I think it's a really inspiring and empowering piece. And it's important for the next generation of young girls to have these options, not to feel like the only way to be successful in the music industry is to take your clothes off.
As much as Beyond the Lights looks at the manufacturing and sexualization of pop stars, it's also an indirect commentary on how that system has evolved. Women artists are much more aware of their agency than ever. And with Lady Gaga, Rihanna, Beyoncé and the like, the sexualization is often on their own terms. Still, it bears repeating that artistic independence for women has traditionally come at the expense of lots of emotional turmoil, and that the odds are stacked against the young ones. Beyond the Lights ultimately succeeds at telling a story that's way too common.
Beyond the Lights will be in theaters on Friday November 14.
Image via Relativity Media