IT'S ALL HAPPENING. Beyoncé launched her Mrs. Carter World Tour in Belgrade, Serbia, wearing what can best be described as an R. Crumb illustration of an outfit.
The glittery bodysuit, just one of the lightning-fast costume changes Bey executed during the spectacle, featured dark contouring around the breasts as well as two nipple inserts like the ones Samantha Jones wore that time. [The Sun, YBF, screenshot via SplashNewsTV]
Bey has been "putting pressure on herself to make sure [her next single] is a classic of 'Single Ladies' caliber." [The Sun]
Kid Rock calls Bey and Jay's high ticket prices "highway robbery." (Says the man who jacked the riff from "Sweet Home Alabama" and rhymed "things" with "things.") [Entertainmentwise]
---
G/O Media may get a commission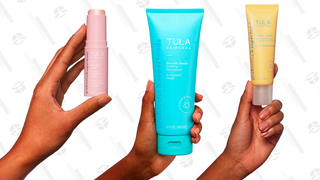 In a Facebook letter posted this morning, Ozzy Osbourne denies the Sharon divorce rumors that have been floating around but admits that his relapsed alcohol and drug addiction has made it difficult for everyone around him. (He's a month and change sober now.)
"For the last year and a half I have been drinking and taking drugs. I was in a very dark place and was an a—hole to the people I love most, my family. However, I am happy to say that I am now 44 days sober. Just to set the record straight, Sharon and I are not divorcing. I'm just trying to be a better person. I would like to apologize to Sharon, my family, my friends and my band mates for my insane behavior during this period………and my fans.
[Reuters]
---
Boston native Mark Wahlberg was understandably upset at the premiere of his new movie Pain & Gain yesterday.
"I really didn't even want to come tonight. I hadn't really heard much — I spoke to my mom, and most of my family seems to be OK. It's such a big event, there's so many people there. It's horrible man. It's fucking disgusting, man. I just - I'm very upset. You try to put everything in God's hands and whatever happens here is out of our control and there's a bigger picture. But it's still obviously upsetting."
---
Kristen Stewart did a Benny Hill-esque scramble to avoid Liberty Ross, who, she was distraught to learn, was also at Coachella. (But really, was she surprised? It's like the 2000s version of the Hamptons.) ''Kristen has tried so hard to put everything from last year behind her - and she still feels incredibly guilty. She and Rob had turned a massive corner in recent months and they were both there to enjoy themselves. The last thing she wanted to do was make Liberty feel uncomfortable, either. She looked pretty upset in the backstage bar later on that evening.'' [The Sun]
---
Okay, well, Amanda Bynes has upped the ante. She posted a video on Twitter with the caption "I'm Sucking On A Sour Patch Kid Listening To Music Getting Ready For Tonight :D" The minute-long clip features her looking nuts and making weird faces to what sounds like a house-ier version of Evanescence. I'm worried. :-| [E!]
---
Isla Fisher: "For me, so much about life is acceptance. You can look in the mirror and find a million things wrong with yourself. Or, you can look in the mirror and think, 'I feel good, I have my health, and I'm so blessed.' That's the way I choose to look at it. I don't need to be perfect. I don't even own a scale. I have two young daughters and I wouldn't want them to see me weighing myself all the time. I don't think it sends the right message."
Hey, Isla, can you talk to Amanda Bynes for me? [People]
---